"Did you get underwater housing?"
I get asked this a lot. Nope. Should have by now. Still living dangerously. Seriously don't try this at home though. Really.
Surfing was very near to the top of the reasons we moved to Ucluelet – it's WAY up there on the list, tied or even ahead of mild winters and fresh air, kind of at the opposite end of the list from gas prices and convenient access to affordable groceries. Being a surf photographer never once occurred to me.
In the six months prior to moving, my daughter and I had begun doing a weekly mother-daughter swim; she hadn't been doing so well in swim lessons, and qualified for a free private lesson (if you fail the same class 3+ times, they give you that I guess) which helped a lot, and then it seemed like a really good idea to keep the momentum going, so we began to seek out public swim times at the different pools around Edmonton and area. We learned quickly that many of them offer next-to-free swim times during the warmer months, most indoor pools are very nearly empty Wednesday evenings in July, and that the public-swim-crowd is the same again and again.
Seville told me she was "practicing for surfing" (we'd already bought our house and were basically waiting on possession) and made it her mission to stand on any foam floatie or flutter board she could find. She faired poorly.
A week or two after we arrived, my friend Star invited us to come watch Torpedo Kids – her daughter was surfing. This will always be a great memory for me, because it was the first time I met my friend Hanna, and it was raining sideways and my kids kept punching each other and complaining that they were cold, but I didn't care because, really, I was on Wickaninnish Beach in October and in an alternate timeline I'd be back in Alberta, already downtrodden with snow.
Seville was intrigued by Torpedo Kids, but she still said she wanted her dad to teach her how to surf. The downfall was that her dad didn't yet know how to surf himself, putting her in a bit of a holding pattern. After years of stalling through her swim lessons, suddenly in the tiny motel pool Ukee kids learn on she seemed driven by unseen forces. She arrived at level 2 and blasted through it, then on through 3 and 4. We attended another session or two of Torpedo Kids as observers. Then she said she was ready to join.
When your kid is getting pummelled by waves, and you're a photographer, it's impossible not to snap a photo or two. Or twenty or a hundred or whatever – that's just how it happens. It was summer, so naturally I left my flip flops at the water's edge and trudged in up to the hem of my shorts, which turned into waist-deep without any effort on my own part.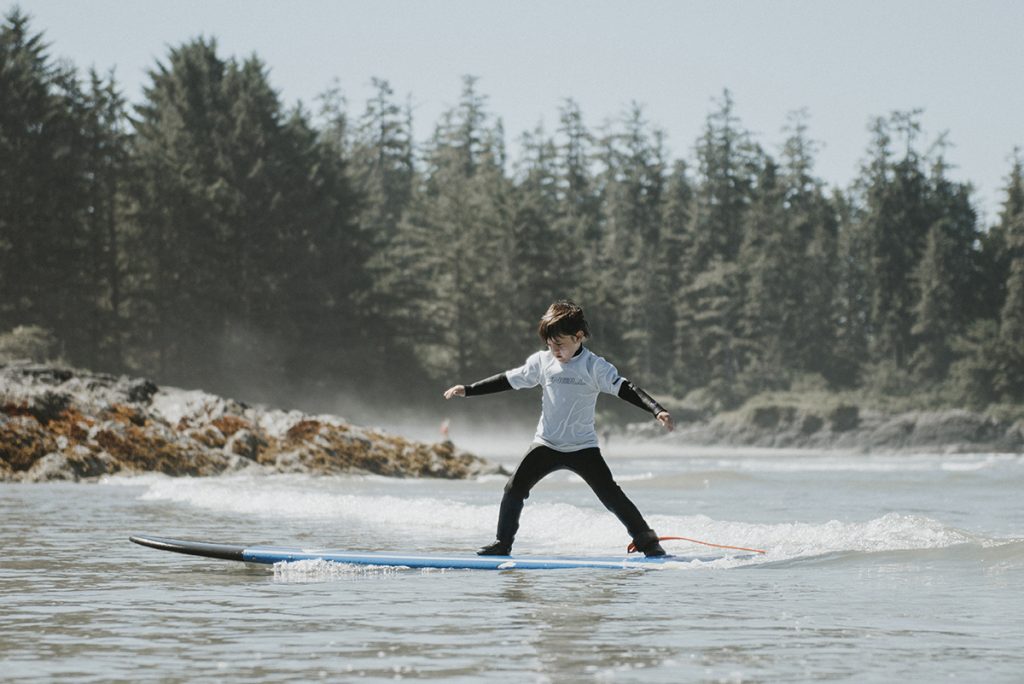 "You should wear your wetsuit" said Star. She was right, but I wasn't sure how ready I was to admit that. At that point, the only wet suit I owned was an old LTS rental with 2012 written on it. It had a number of holes and, um, didn't really fit, which meant I had to breathe REALLY deep in order to breathe at all, which was pretty funny, but made me rather dizzy if I wasn't paying attention.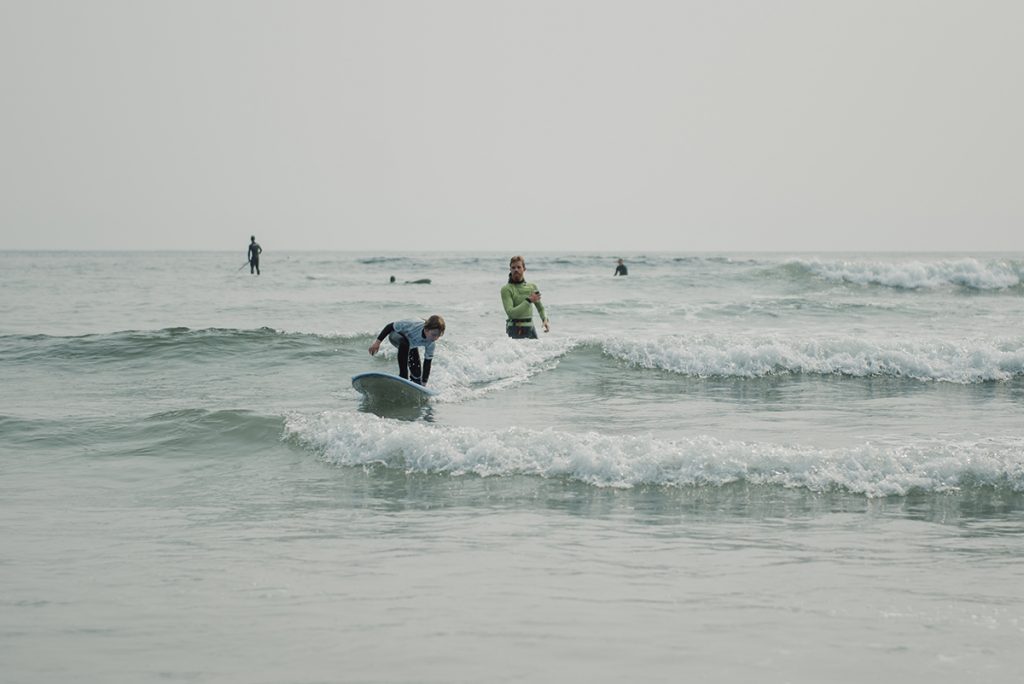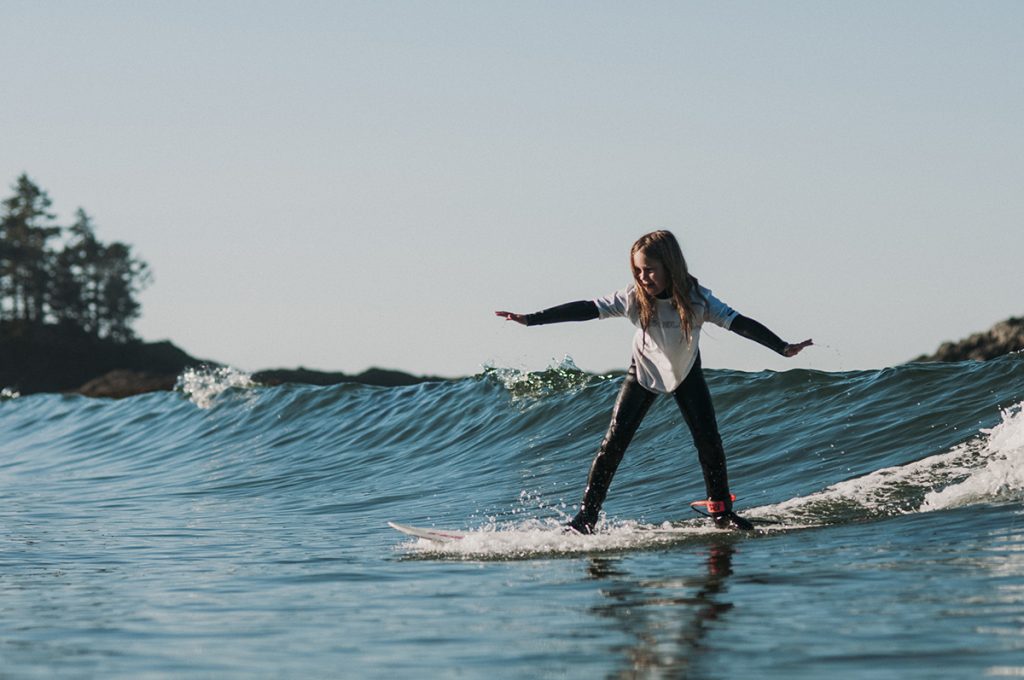 By October, I had a new suit and by that I don't even mean "new to me" – I bought a 5mm chest zip hooded Roxy suit which, if you don't know much, which I didn't at the time, means I can pretty much stand in the North Pacific in the middle of winter for about 2 hours without freezing to death, so long as my hood is up. If I forget my hood, that time decreases significantly. My hands inevitably freeze long before I'd like them to (yes I have gloves, but I need to be able to push that button!) and that's what other parents on the beach with warm water is for.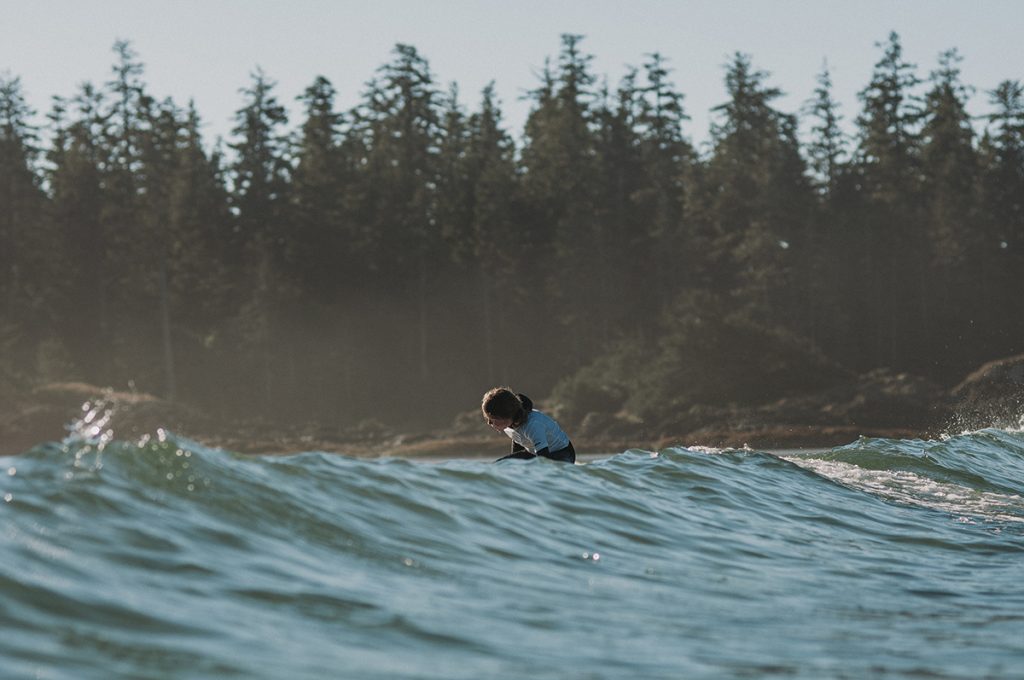 But honestly, the weather here is so nice that my hands didn't even freeze in October. They froze in February.
Let's go back to October. Suited, I was just wading in as far as I could go, which was pretty far, and holding my camera over my head when waves hit. Living dangerously.
If you have ever been in waves, you know that they come in sets and sometime are bigger than others and that they can be pretty unpredictable if you're not super familiar with the rhythm of the ocean, which I admittedly am not. Above your head on a calm day is not the worst place for your camera, unless the ocean pulls your feet from under you. It didn't happen. It could have happened, quite easily.
We didn't go into it eyes-closed or anything. The equipment I chose for the day was very intentional – an old cropped-frame camera (Nikon D300S for those in the know, and a really old 85mm f1.8 film lens). We knew that it was entirely possible that I fall, or drop the camera and it could all be gone. It was a gamble.
But here's the thing; by then I was definitely hooked. I said at the beginning of this post that being a surf photographer never occurred to me before we moved. It didn't. However, when I got into the water with those kids, something came over me. I would always start out the weekend thinking "I'll do an hour, on one day". Inevitably, I ended up doing two hours on all three days, and still wanting more. I won't likely ever be A Surf Photographer, but I love children's surf photography and I could do it every day, all day, and never get enough. The stoke in these kids is truly inspiring. The love of surfing is palpable all around. These children are fierce and their energy is irresistible.
This has a lot to do with the Rosenes, who are some of the best people I know. Period.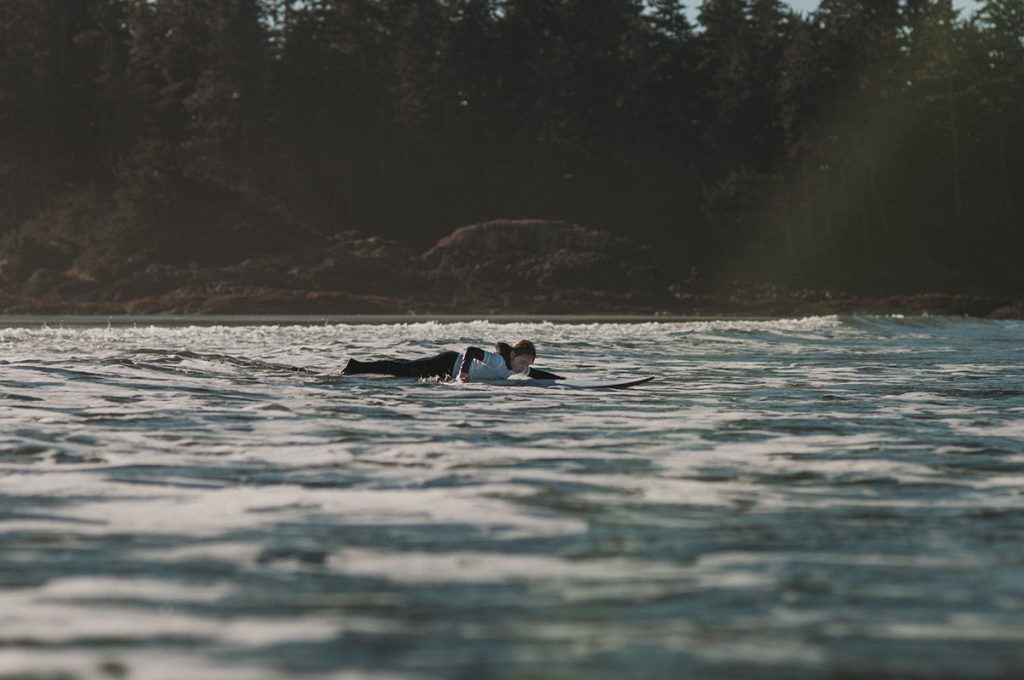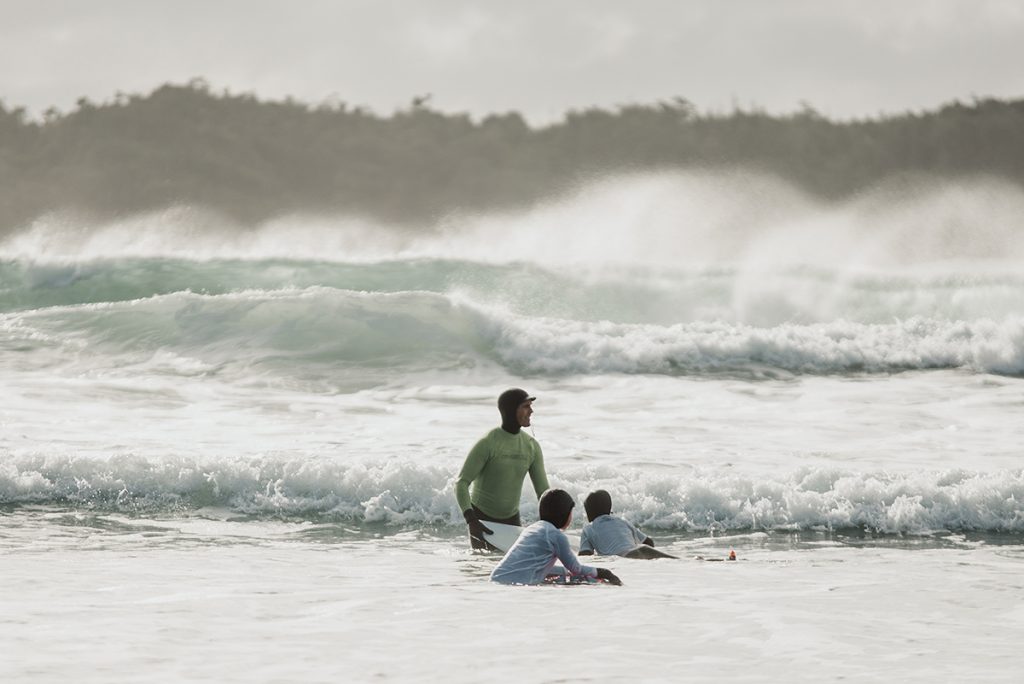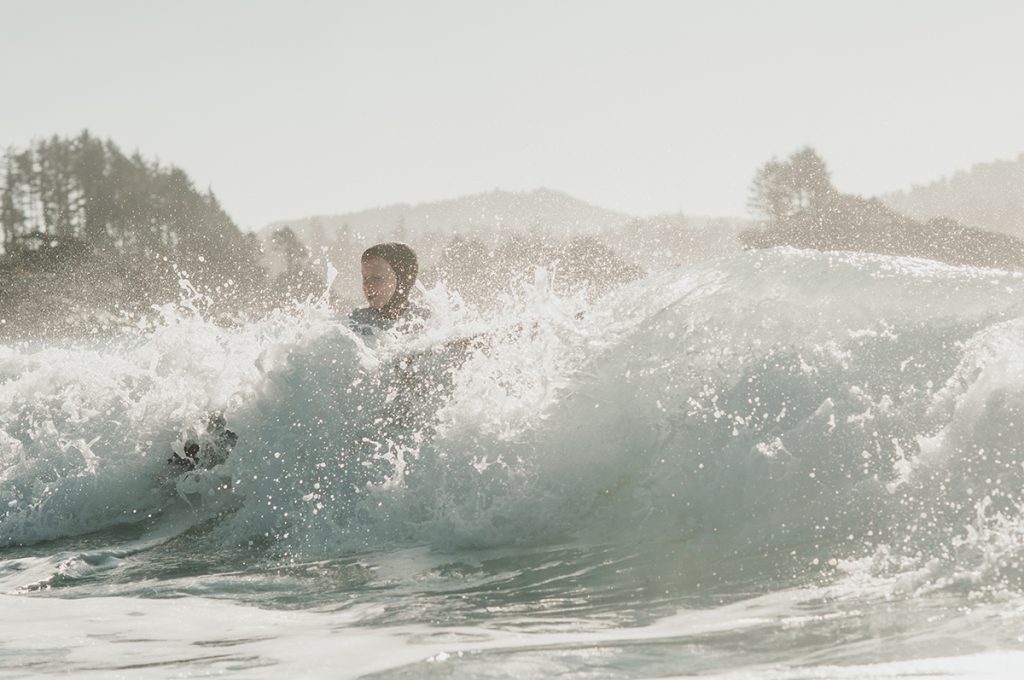 By February, I had a plan. Ok not a plan – a plastic bag. Yep.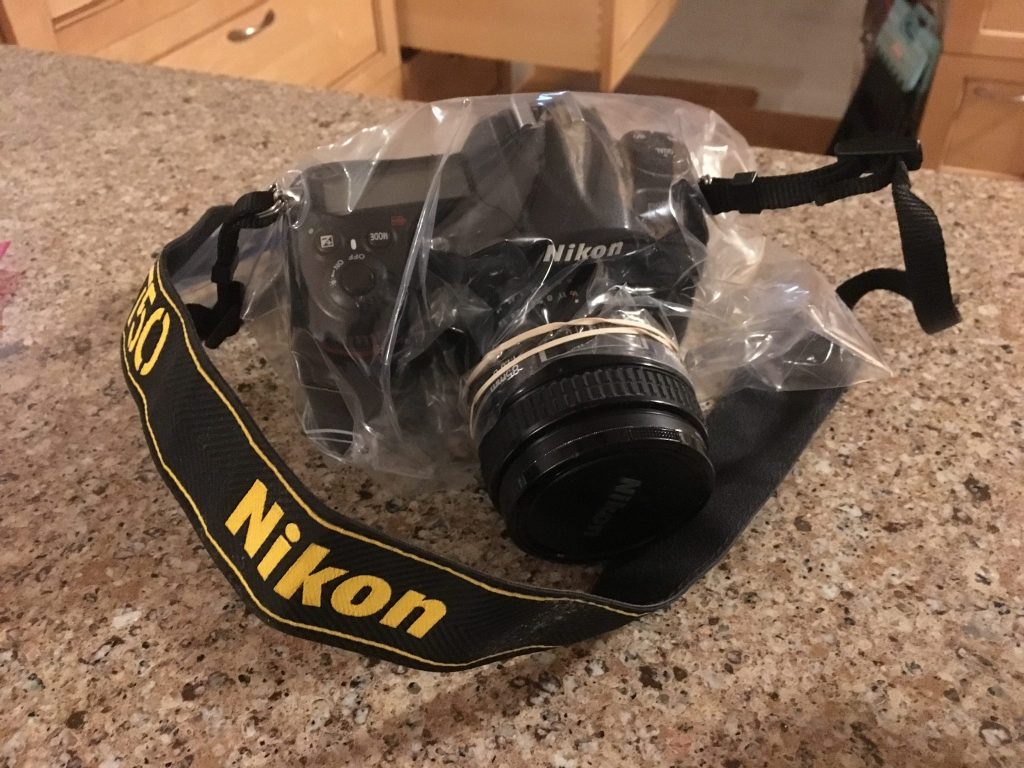 Adjustments were eventually made – it quickly became pretty clear that the elastic band needed to be around the lens filter and not so close to the body, and some hot glue around the strap holes added a little bit of added protection. But the message is still clear – do not try this at home.
It's been a game changer for me though. I still hold it above my head but minor splashes aren't a worry like they used to be.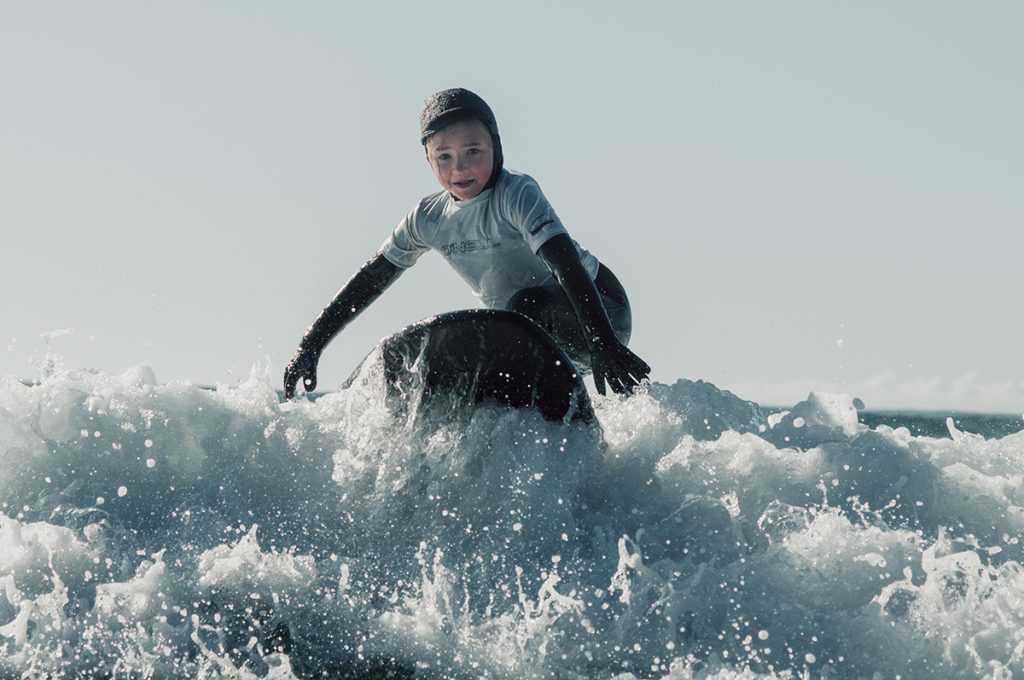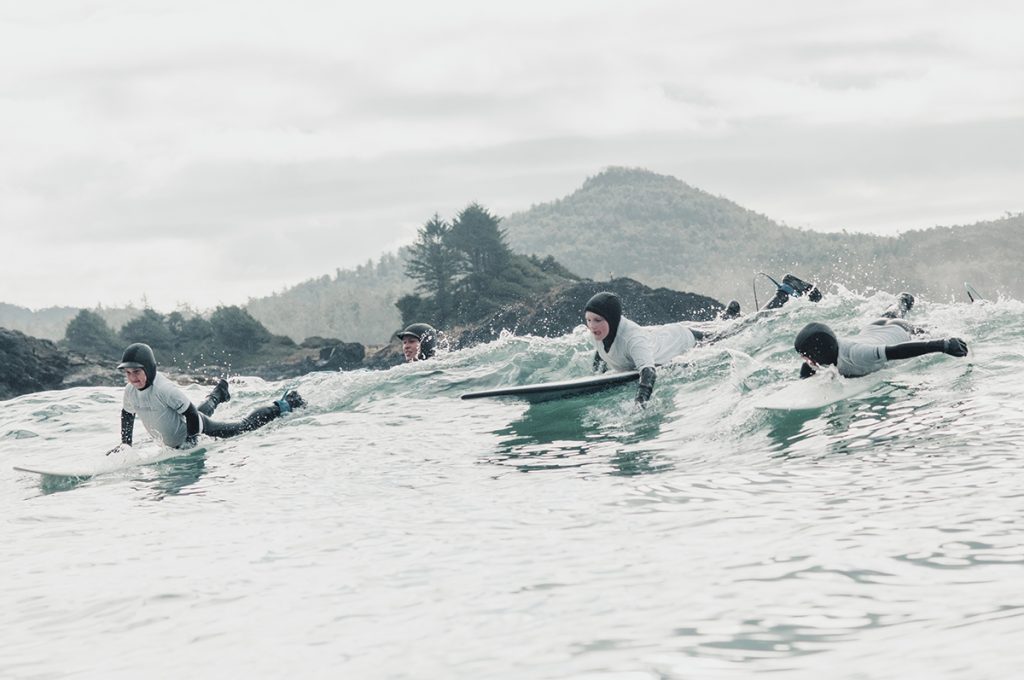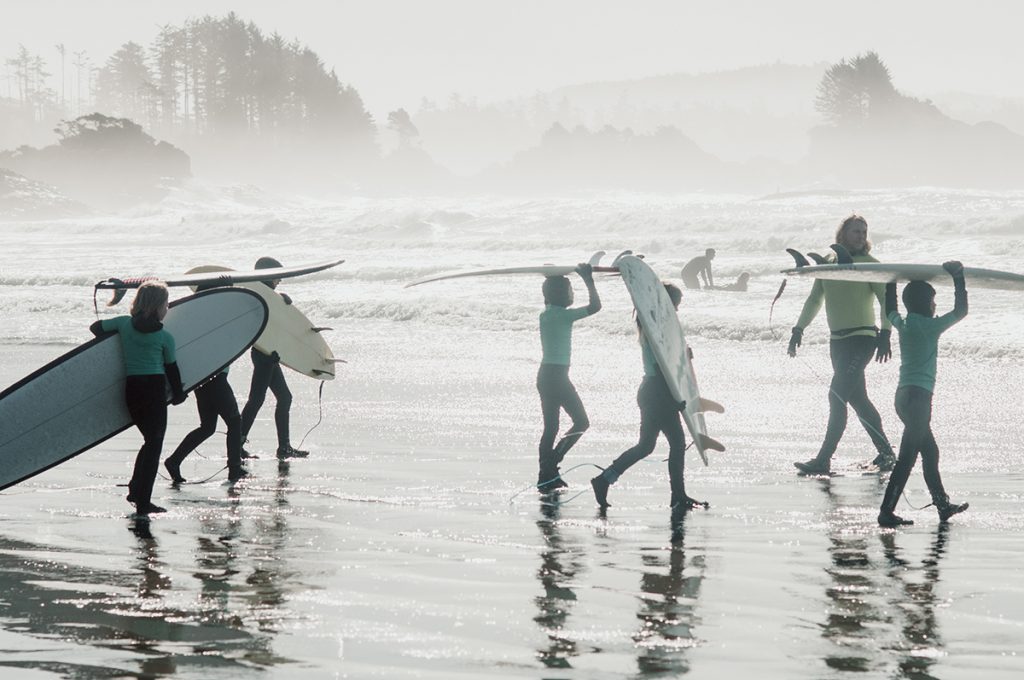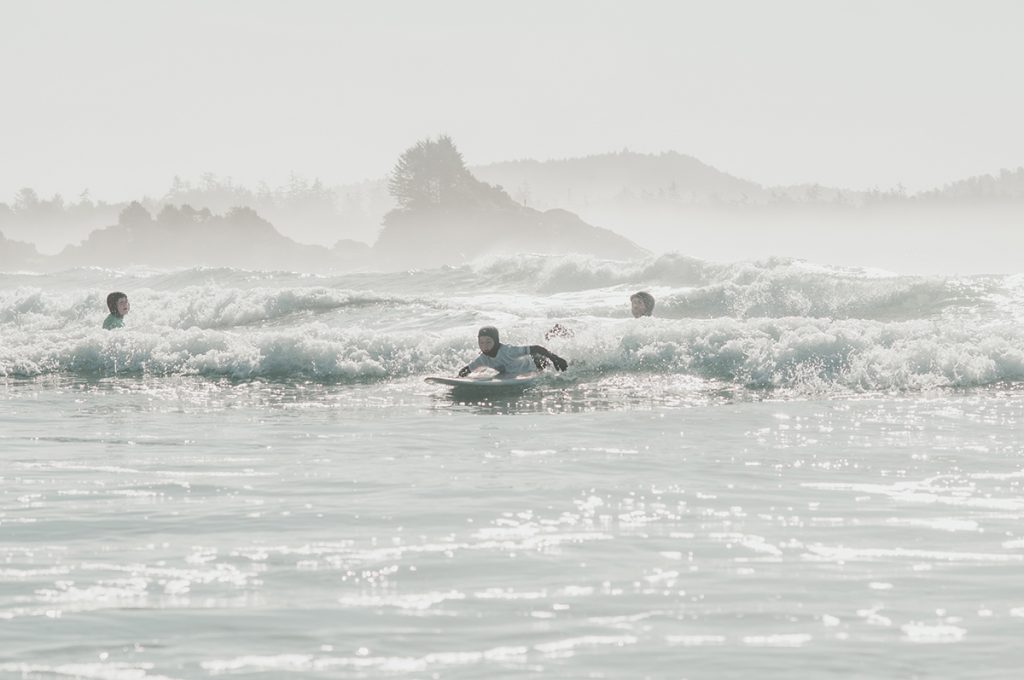 But underwater housing is at the top of my gear list right now. If I get tumbled and this hinky set-up gets soaked, it'll be time to say good-bye to my D300s, which would be disappointing because I'd be back to the shallows, and I really don't want to do that again.
If you want to help me reach my goal of eventually not being a total hack – hire me.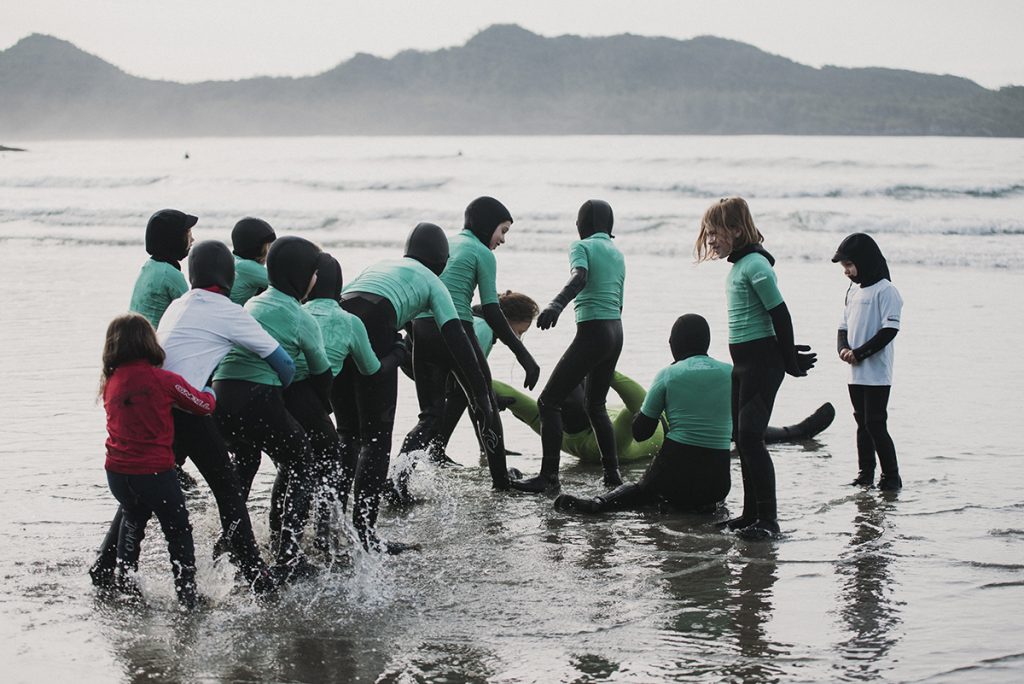 While we're on the subject of getting tumbled – this is the newest amazing thing from Torpedo Kids. Despite minor protests from the children (who have that childly impatience and just want to surf now now now), every session begins with an ocean safety review. Now each of these kids knows what to do if they find an unconscious person on the beach. They know to take note of where they are at all times if they need to call for help. One day these kids will probably save some lives.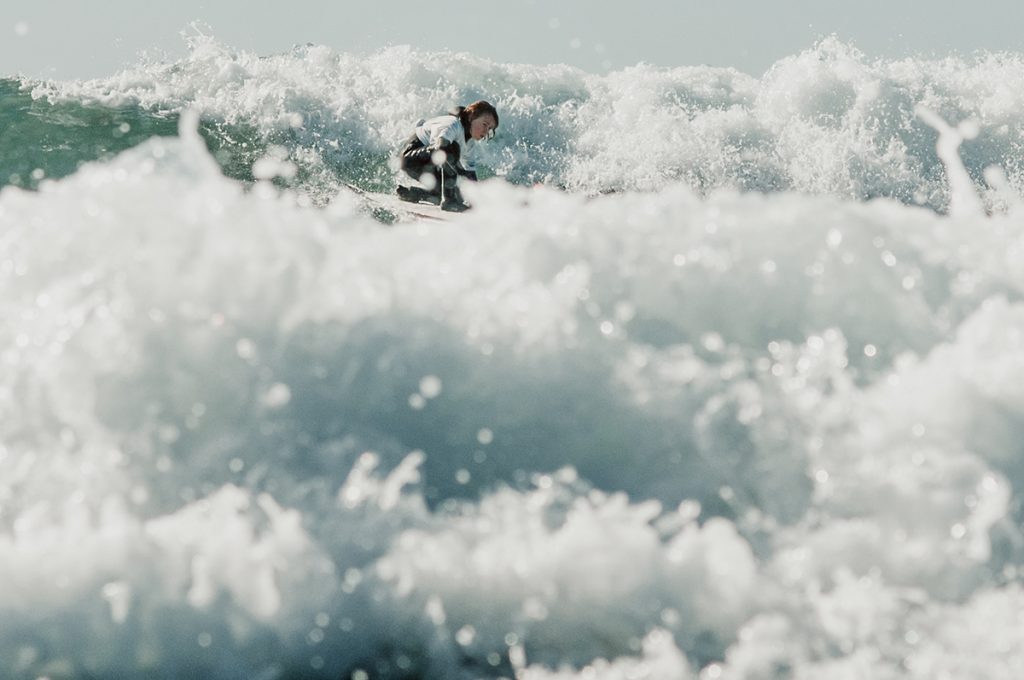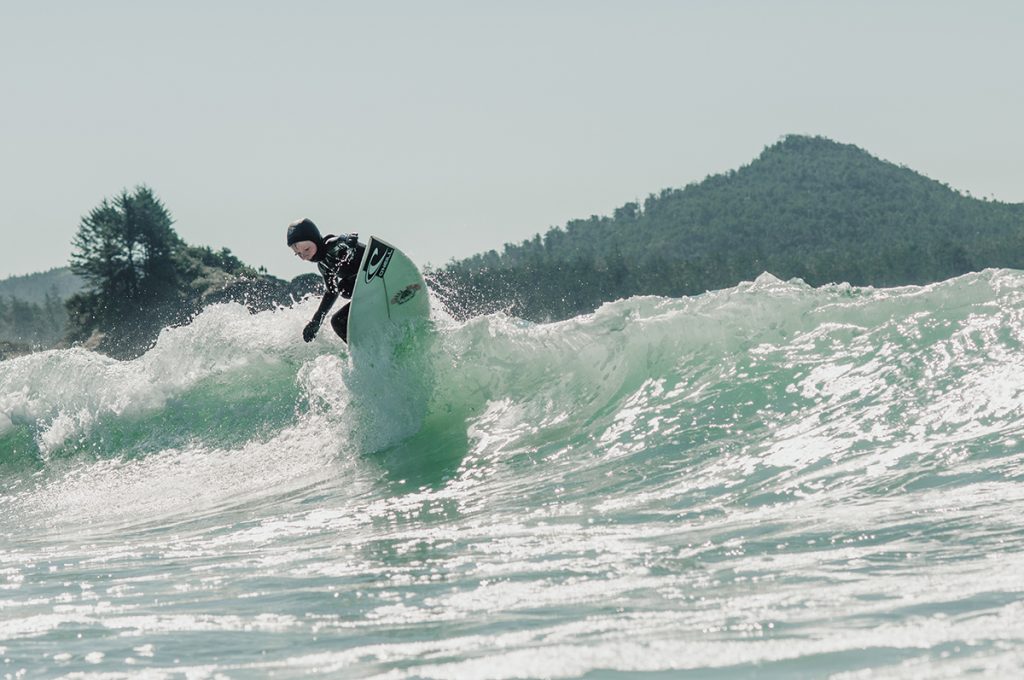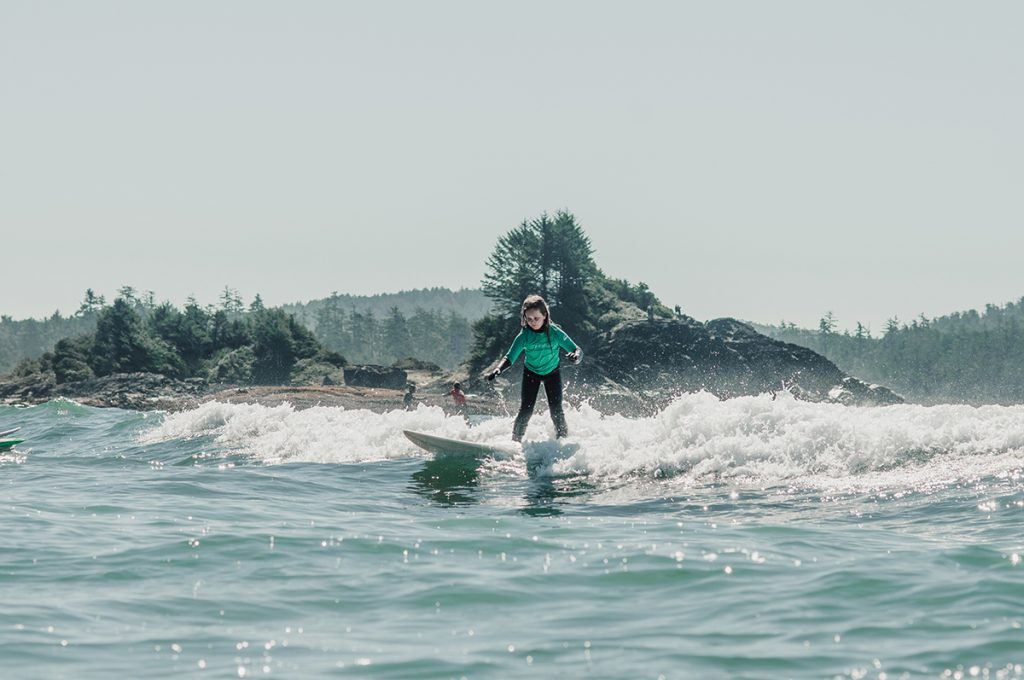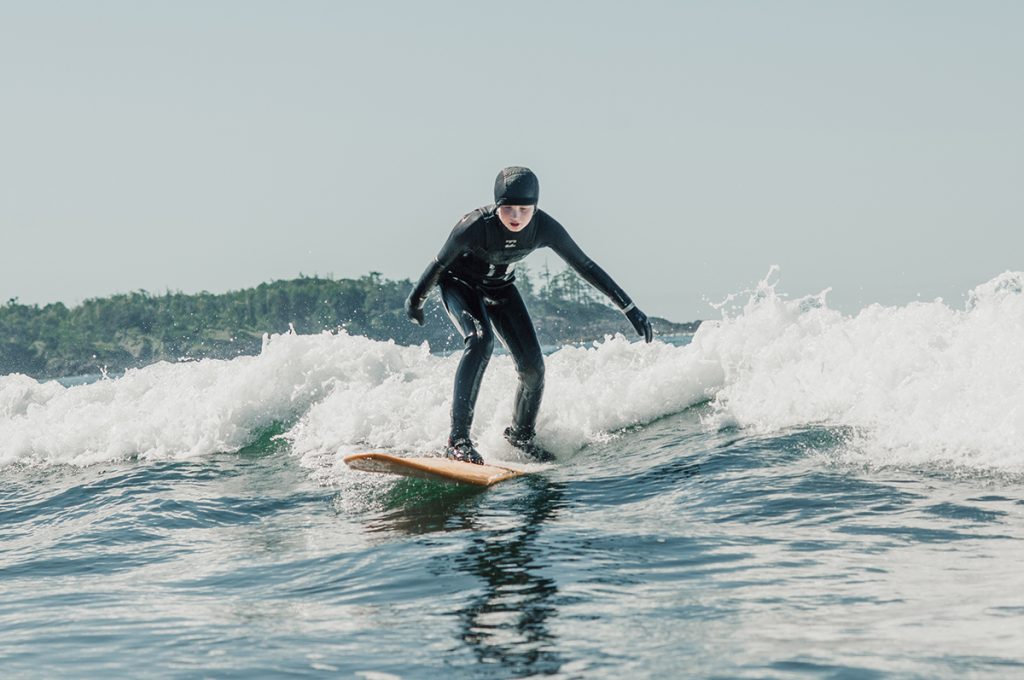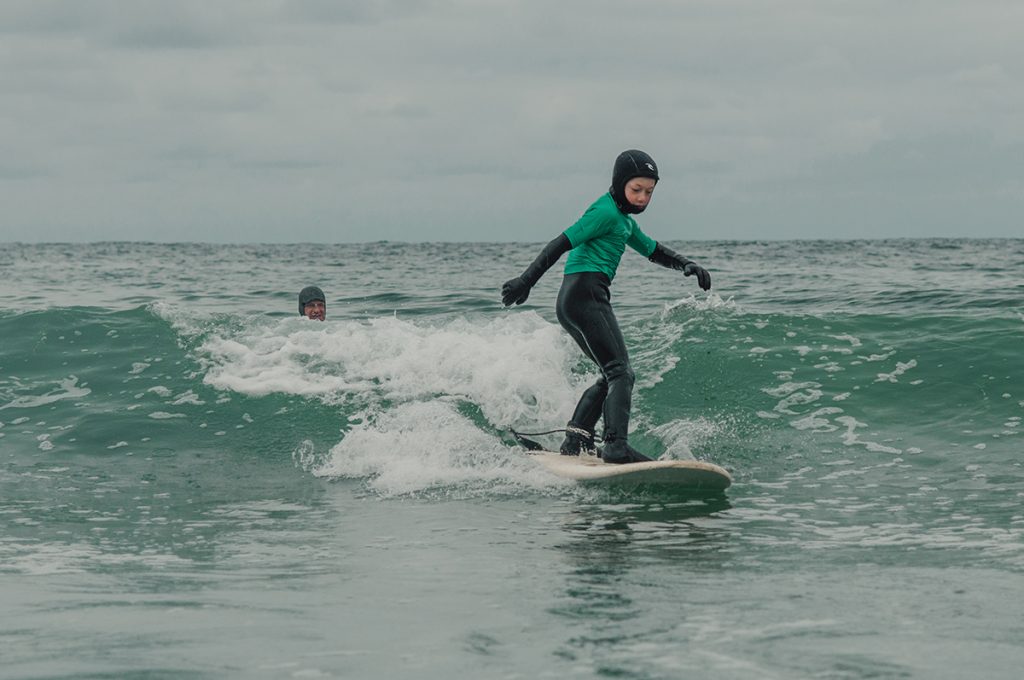 I will follow these kids wherever they go, and no matter the weather, I'll have my camera. This past weekend, on day 1 I had to get out of the water early because moisture had slipped through the threads of the UV filter on my lens and condensed on the inside of the filter – it ended my day about 45 minutes before I'd have otherwise gotten out. I spent an hour that evening giving the whole set up a thorough cleaning, replacing the bag (which I don't like to do – no need to create more waste if I can avoid it) and stuck it all in front of one of our dehumifiers for the night. Day 2 and three came in sharp and clear, but it'll be another complete cleaning before the next Torpedo session. And hopefully – sooner rather than later – housing.
Until then: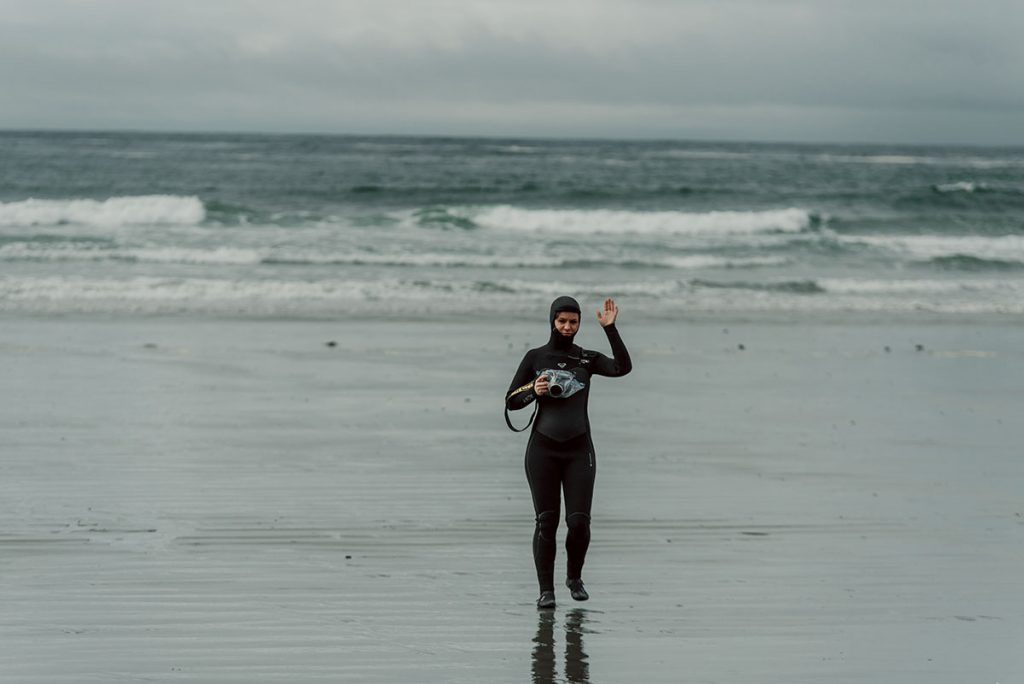 ---
---
You might also like
---