I generally consider myself a pretty good planner. From vacations to interprovincial moves, photo shoots to camera classes, I've planned many things. So when my friend Janine asked me to photograph her September Summerland wedding, I figured I had it all under control. The kids would miss a couple of days of school – no big deal.
It wasn't until I got the kindergarten letter in the mail last month that I realized Hobbes would miss his entire first week of school. Oops.
Really, though, which would you rather do: gradual entry to kindergarten where you only get to play with your friends for a couple of hours a day, or ride a ferry, stay in a hotel, visit with family members you may or may not have any real memories of and eat fresh Okanagan fruit? The choice is SO obvious.
We left on a Thursday morning at an extremely offensive hour. We made a reservation for the 6:30am ferry from Nanaimo to Vancouver because, well, why not. Being an Airbnb host, I should be super familiar with the Highway 4 road closures, obviously…except that I got them wrong, and we ended up sitting at Kennedy Hill for 45 minutes until it opened at 4am, then drove quite swiftly across island and made it to the ferry just in time.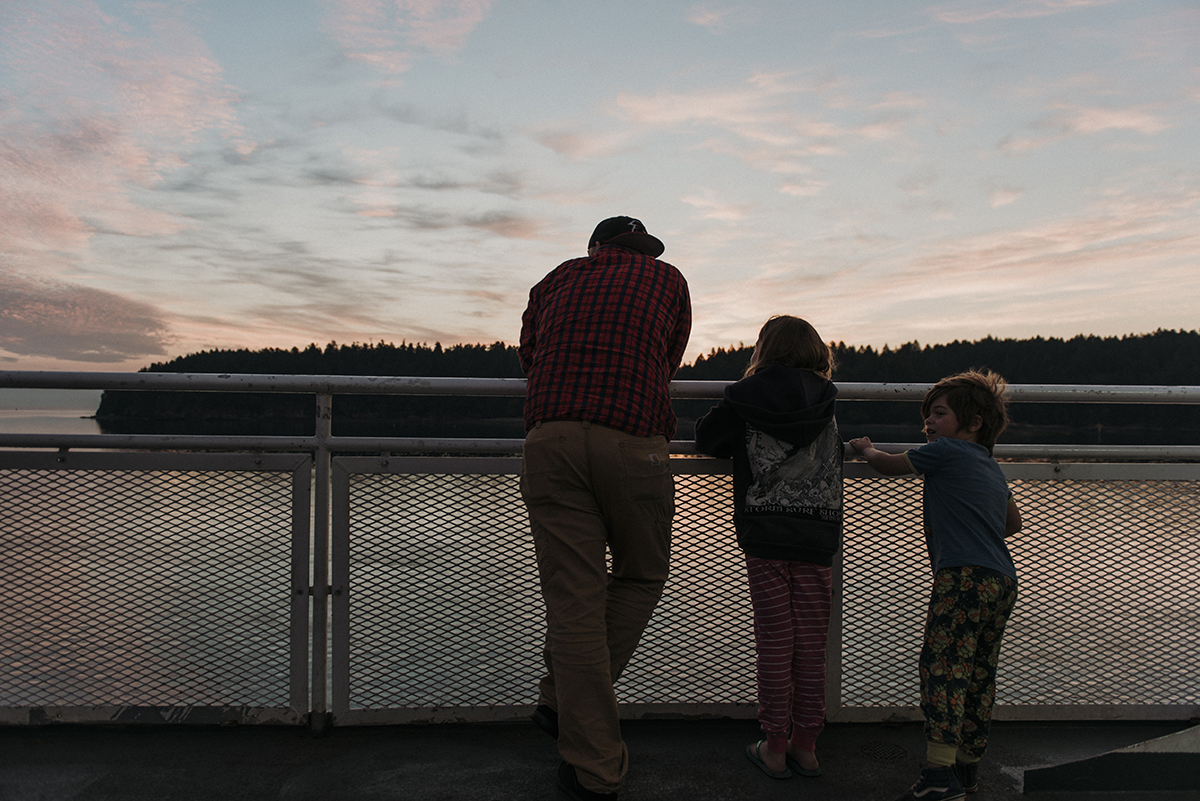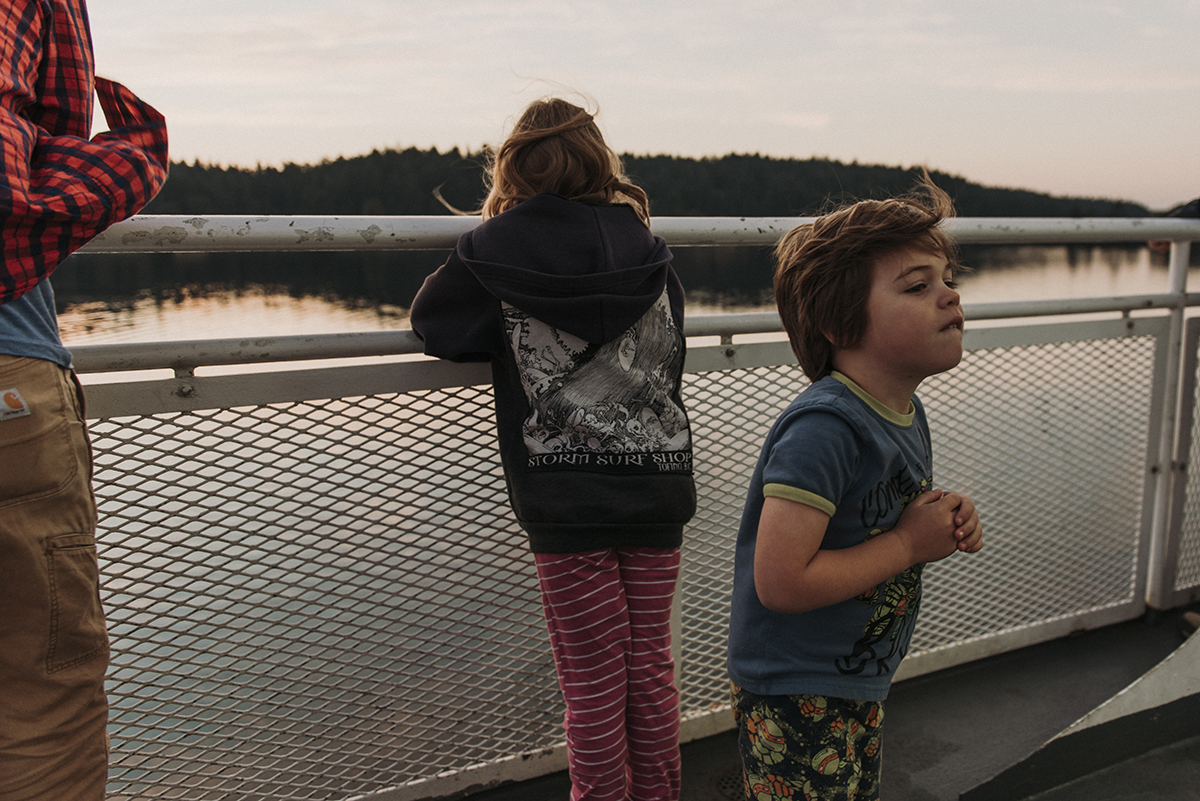 So, my kids may have been the only ones on the ferry in their pyjamas. No big deal. I commented to Layton the other day that this was the first trip we've taken where we didn't forget anything. I realize now that I was wrong. I was SURE I'd packed Seville a hoodie, but as you can see here, she wore mine for the whole trip because clearly I did not.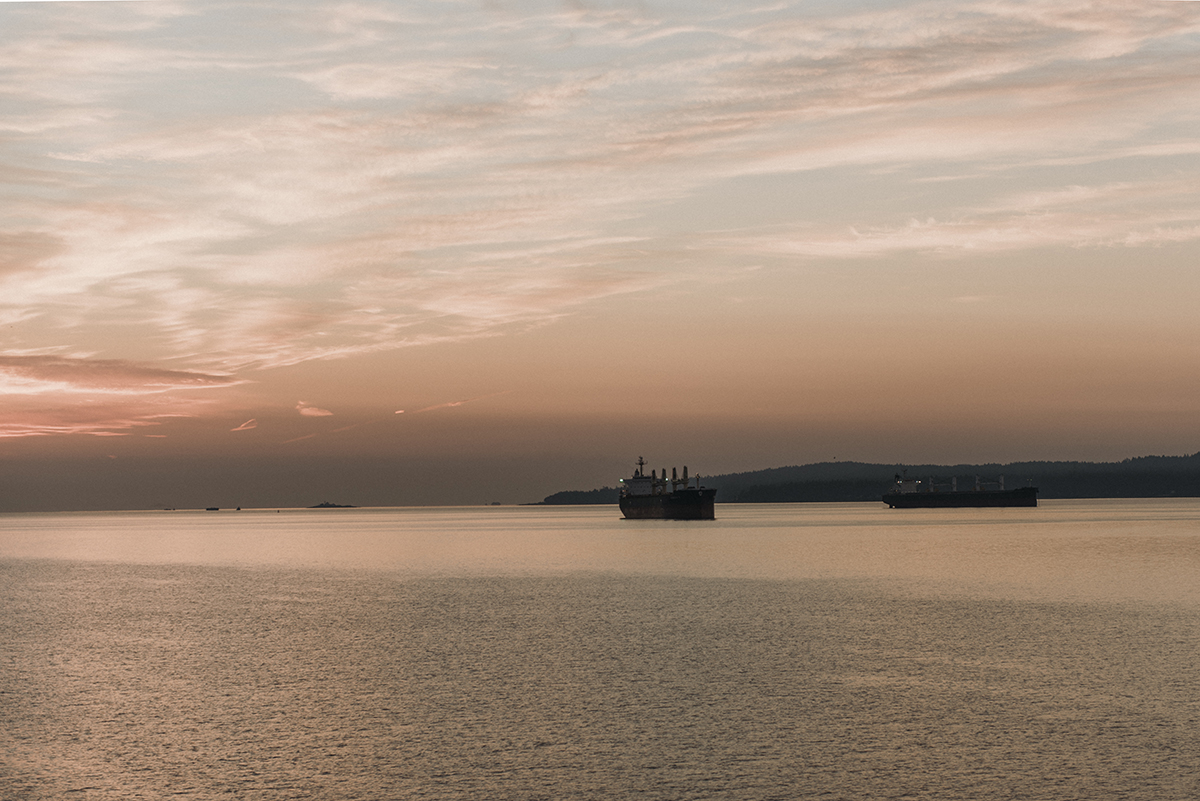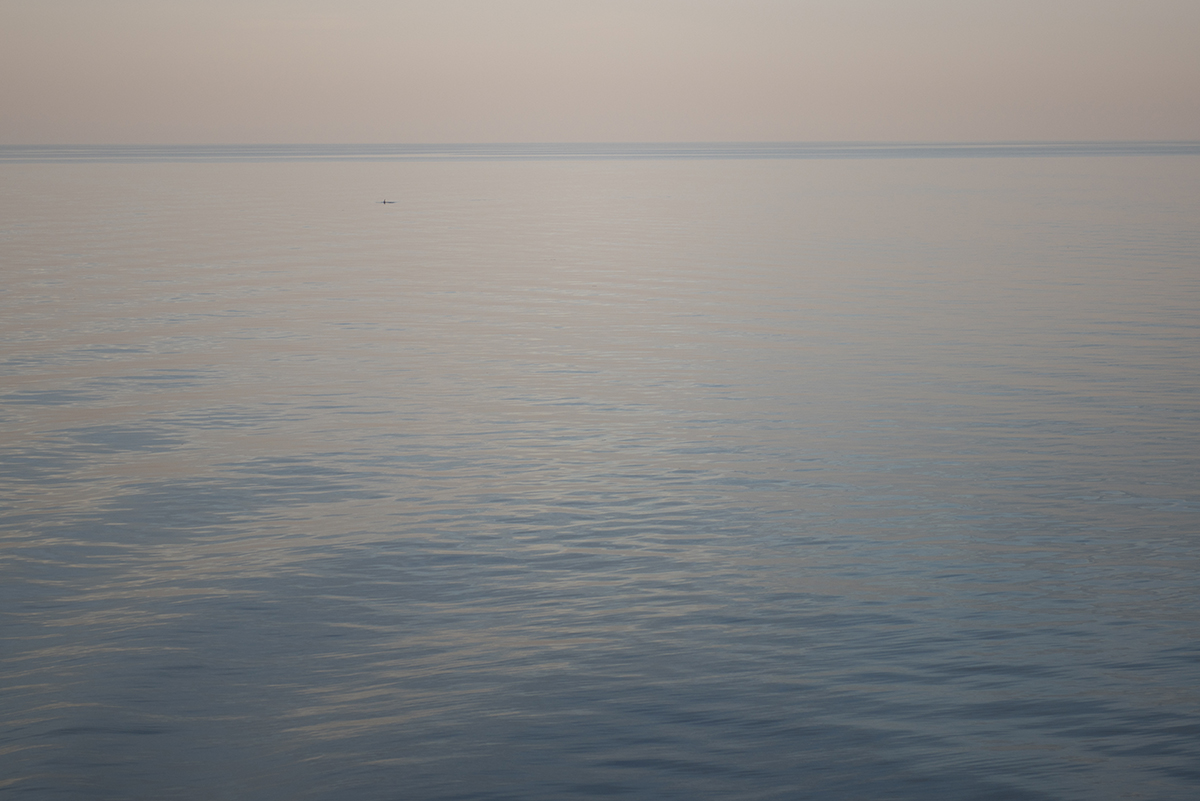 We saw orcas! They were a long way off and I am ill equipped to take photos of far-away wildlife. But it was pretty incredible.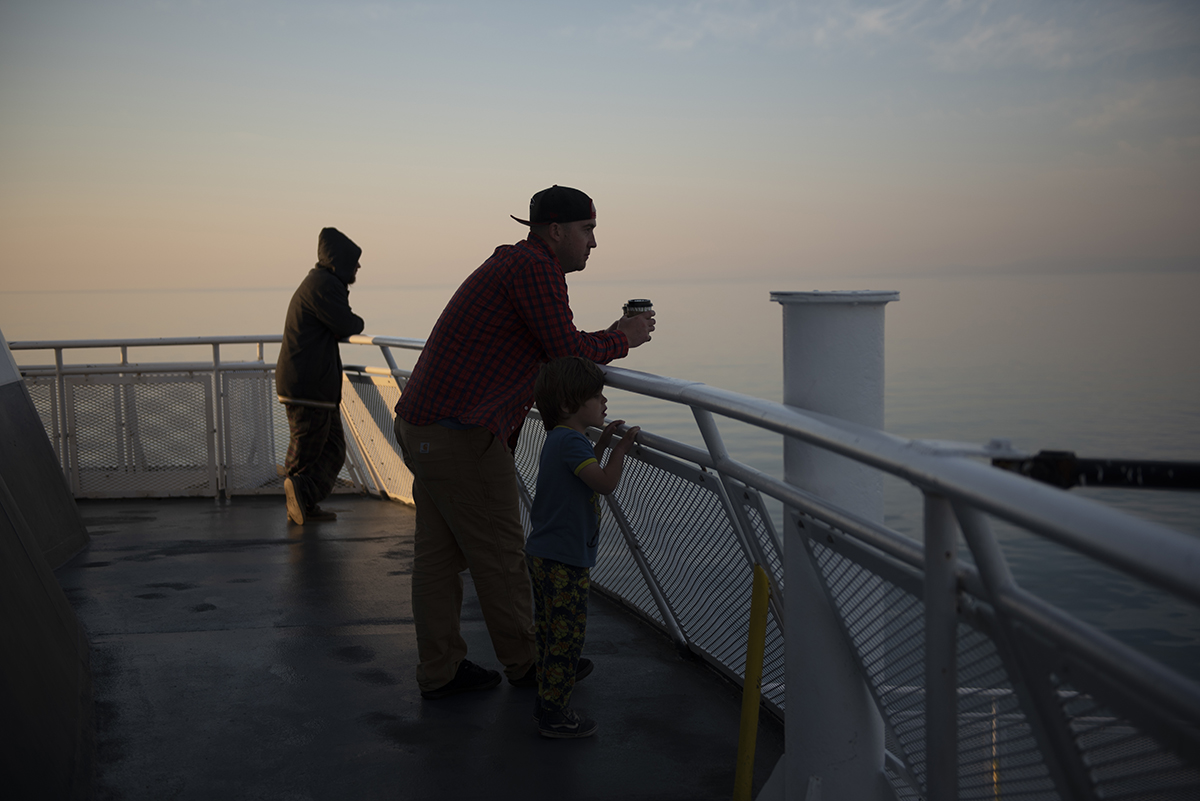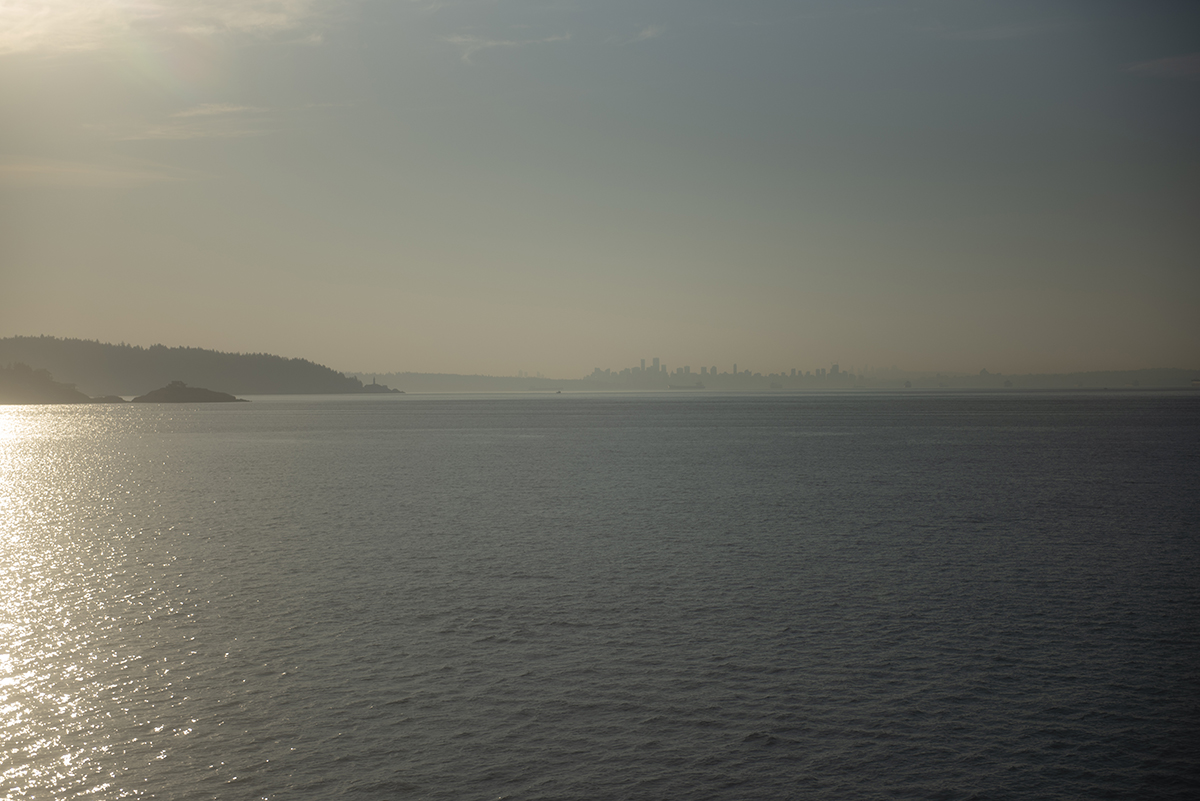 As the ship neared it's destination, Hobbes pointed to the distance and said "hey, there's Vancouver". He often impresses me with how he gathers information. I guess he knows Vancouver was the city we'd be near, and I suppose it's not impressive, not really, that he recognized a city skyline.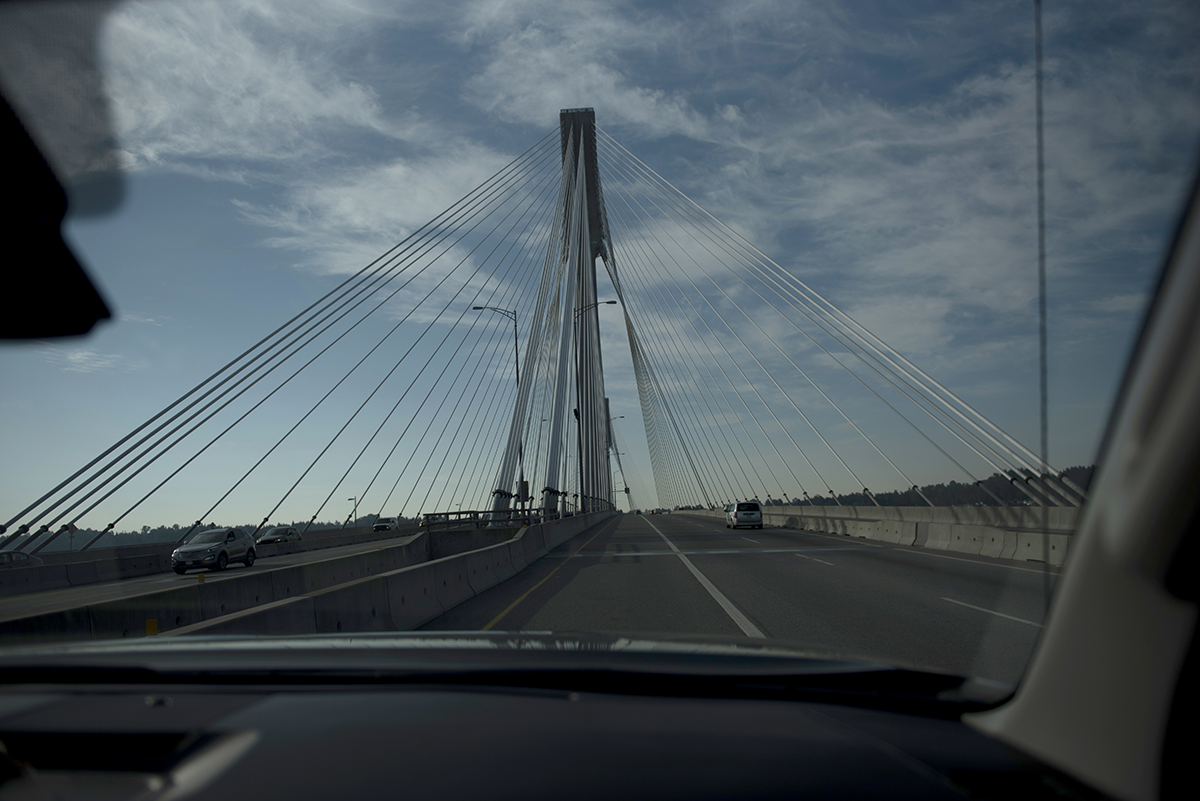 I am not really a very big fan of driving through the Lower Mainland. The last (only?) time I did so was when we moved out west from Sherwood Park, Alberta nearly a year ago. This time, lucky me, I didn't have to drive, so my hands were free to take photos out the window, obviously.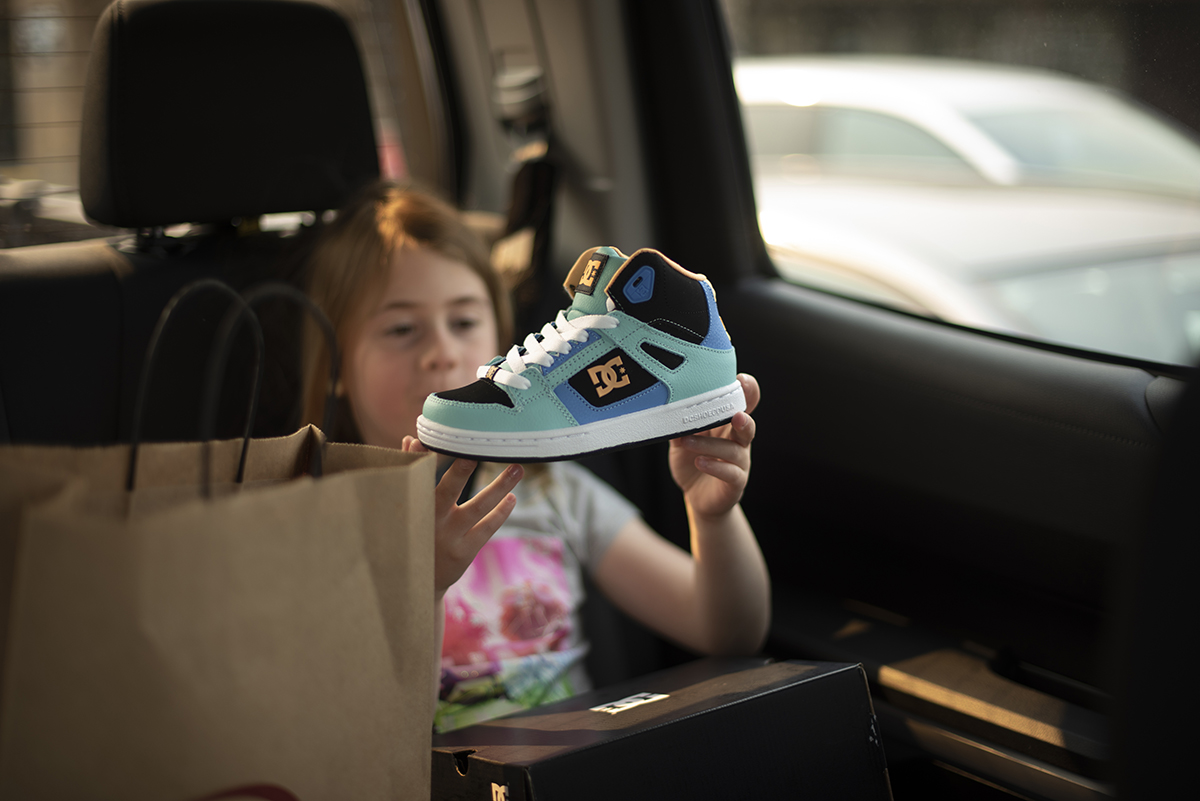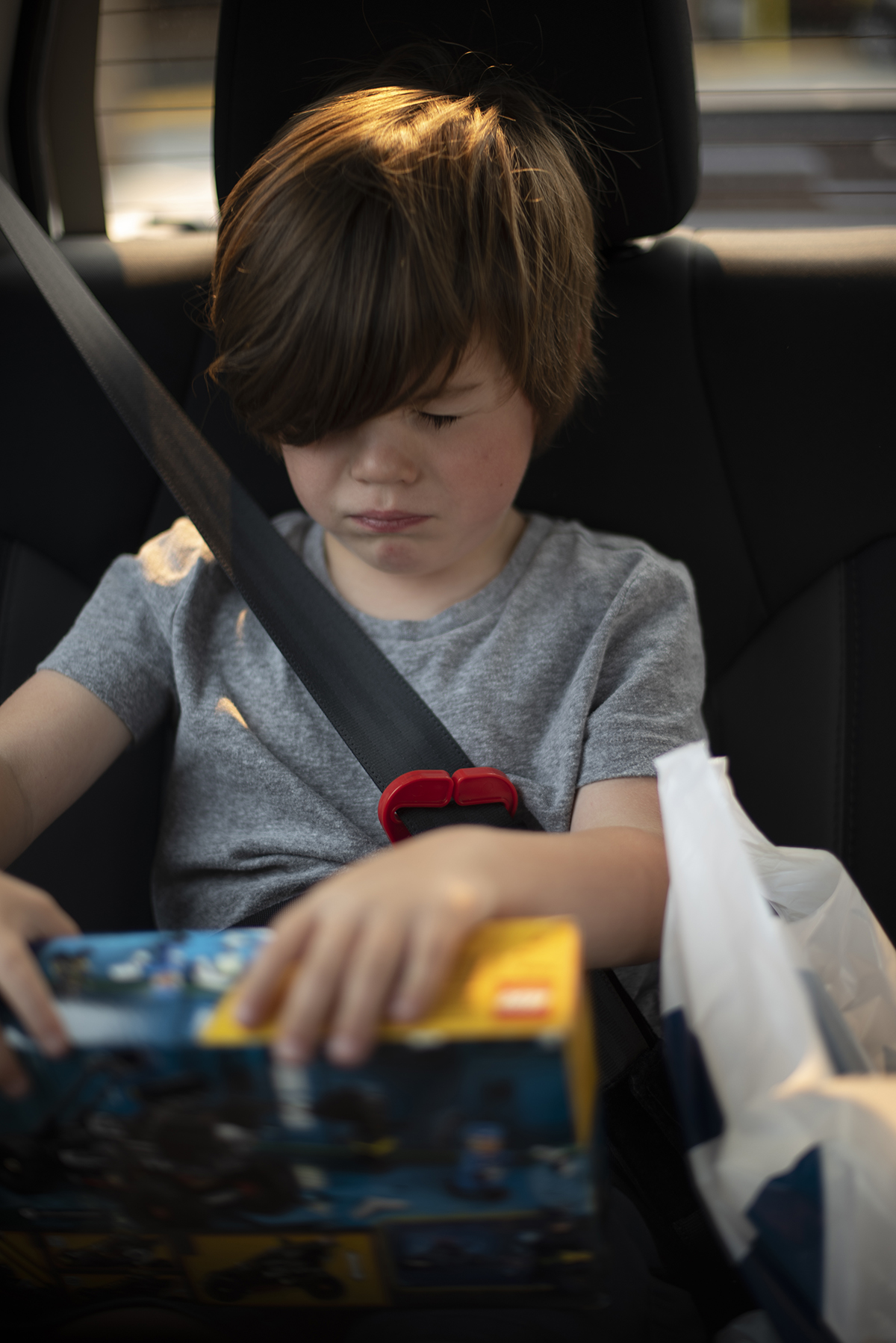 I live in a tourist town, and when I'm travelling elsewhere I make something of an effort not to look too much like a tourist. I carry my camera with me mostly because I have to, but it's more often in my bag than in my hands, and I generally don't stumble into the streets in oblivion, trying to take photos of mundane things. But I do take photos of my kids, especially after a day of back-to-school shopping in Kelowna! Thrilling. Mostly, we bought shoes – Hobbes needed two pairs, and Seville and Layton each needed one. For good measure, I bought flip flops. The whole thing was a bit painful, and they were really good so the kids were rewarded – Hobbes got Lego and Seville bought a new notepad (she has an unreal number of notepads, which she fills with cryptic things).
The next two days are a blur – you'll see some of them in a later post, when I blog the lovely wedding at Fitzpatrick Family Vineyards, where we got to see out good friends tie the knot after ten amazing years, and the rest was filled with family visits, of which I strangely took no photos.
On our fourth day, we moved from a resort in Summerland to the Sandman Hotel in Penticton.
We travel as a family with some regularity. We camp if we can, but in many cases we stay in hotels. And when we stay in hotels, we have one main requirement: must have a pool.
The Sandman was awesome, actually. It's a little dated. At one time, the rooms probably allowed smoking. The pool is straight out of the 70s (which is a huge attraction to me!). But the best part, to me, was great customer service. As I was checking in, the clerk said "I see you have small children. We have you registered in a room that faces the outside of the building, but I can move you to one with a sliding door right onto the pool". How much, I asked. Free! Our room is the one just to your right of the exit sign 😀
We always use the pool.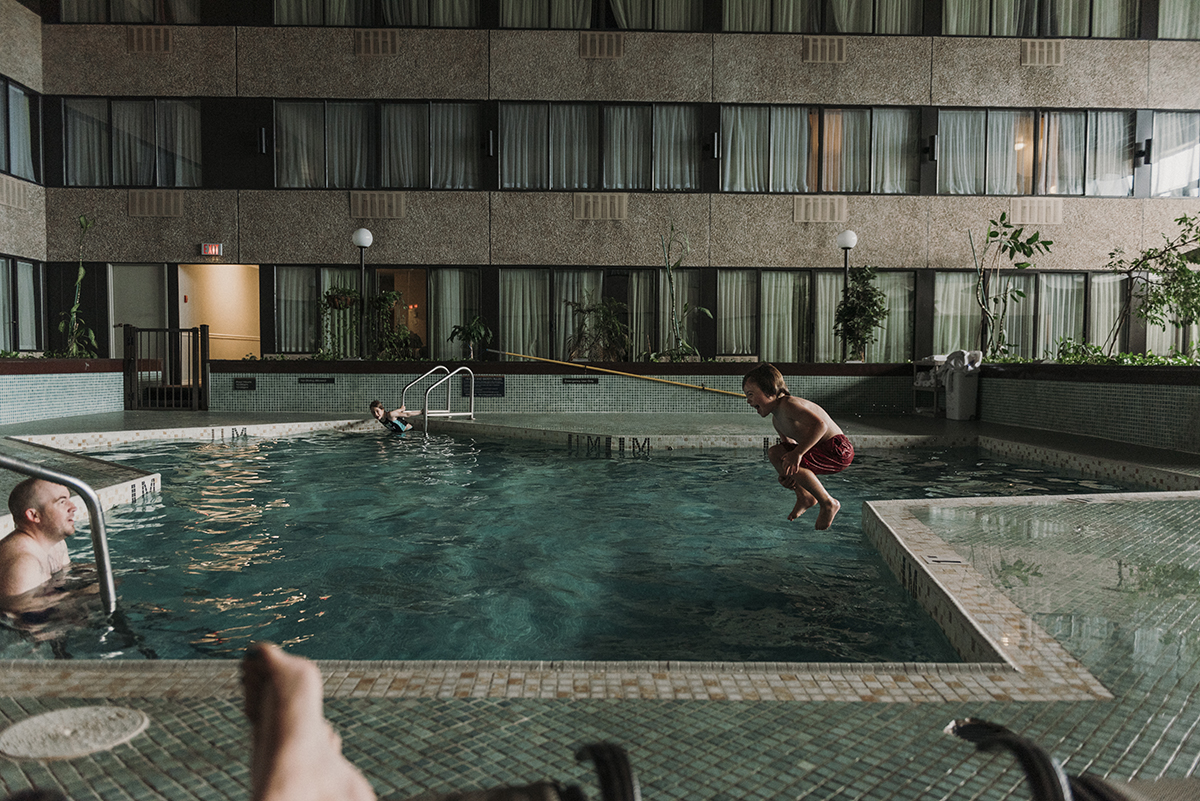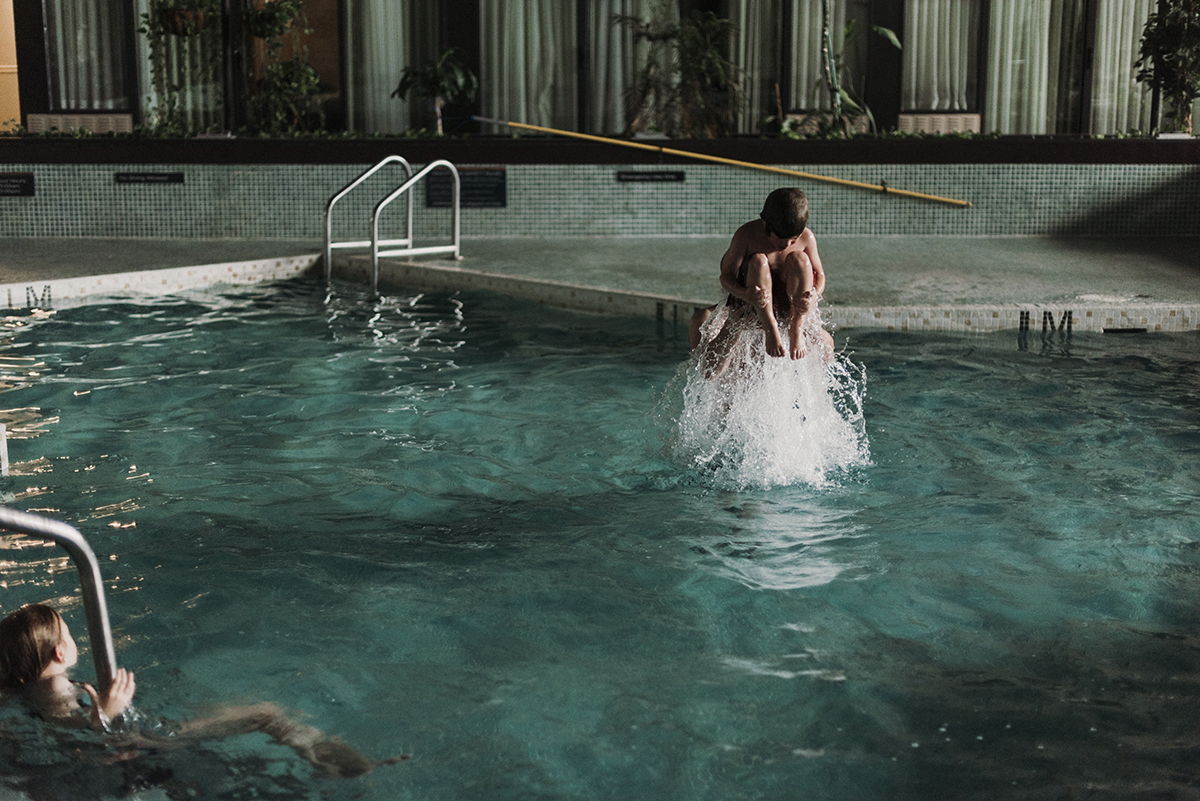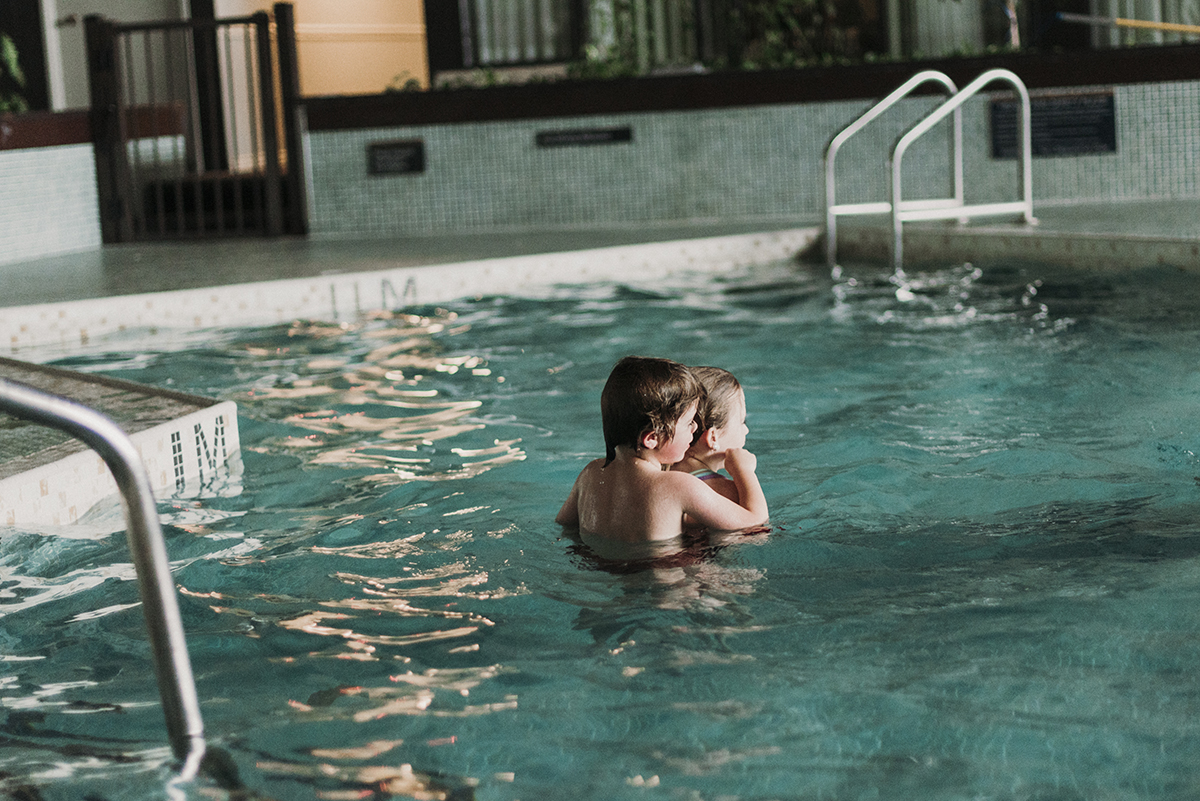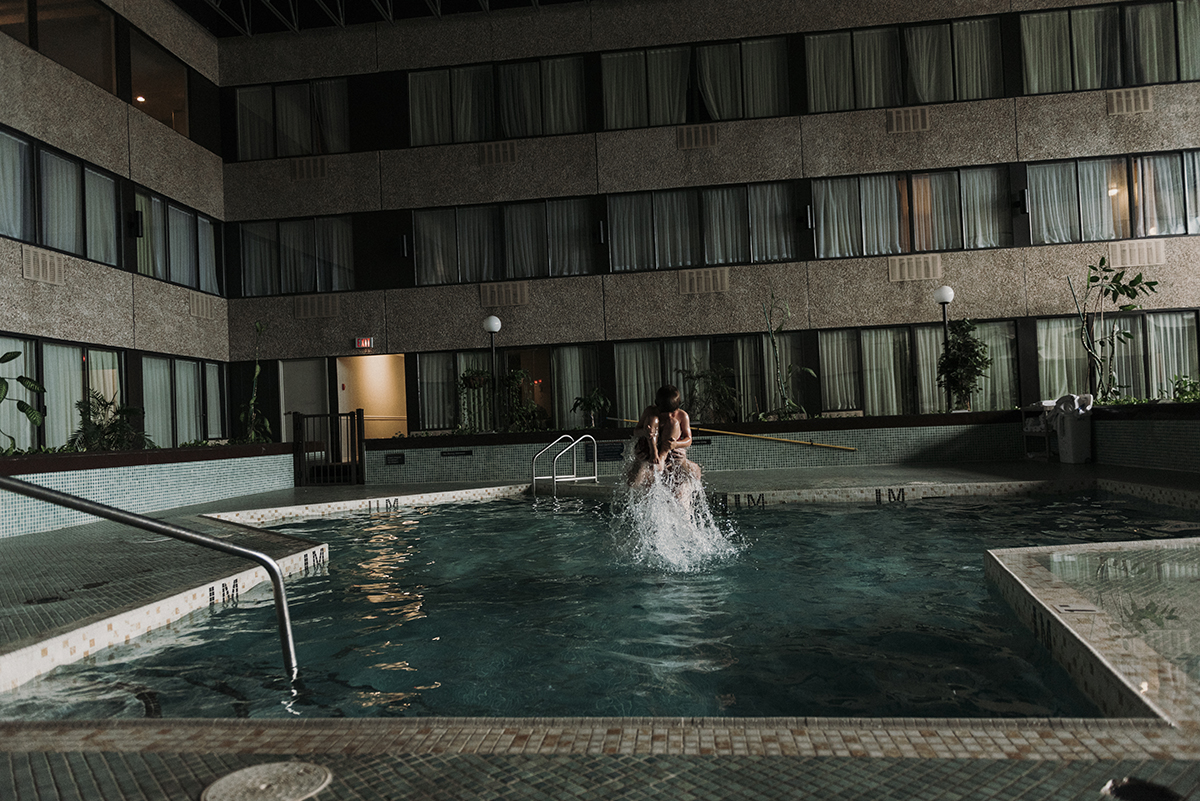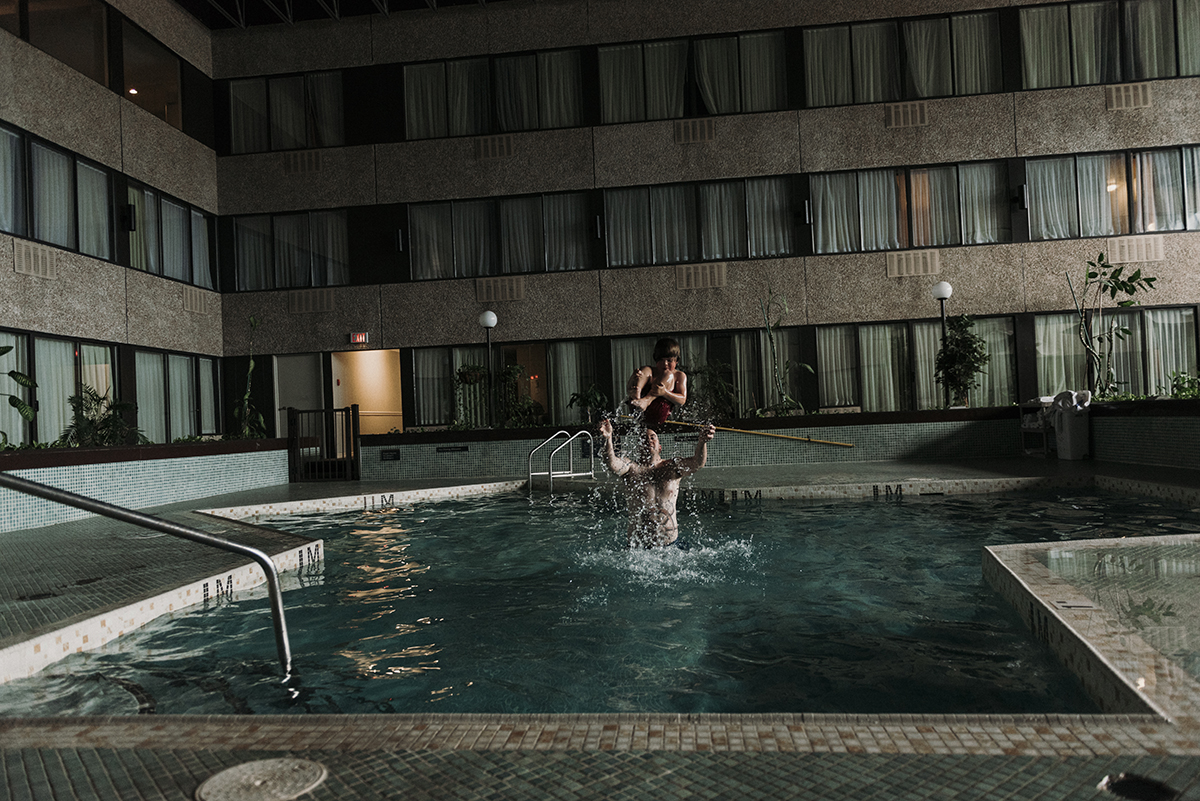 Our second-last day. Seville got dressed in the dark and accidentally put her pants on backward.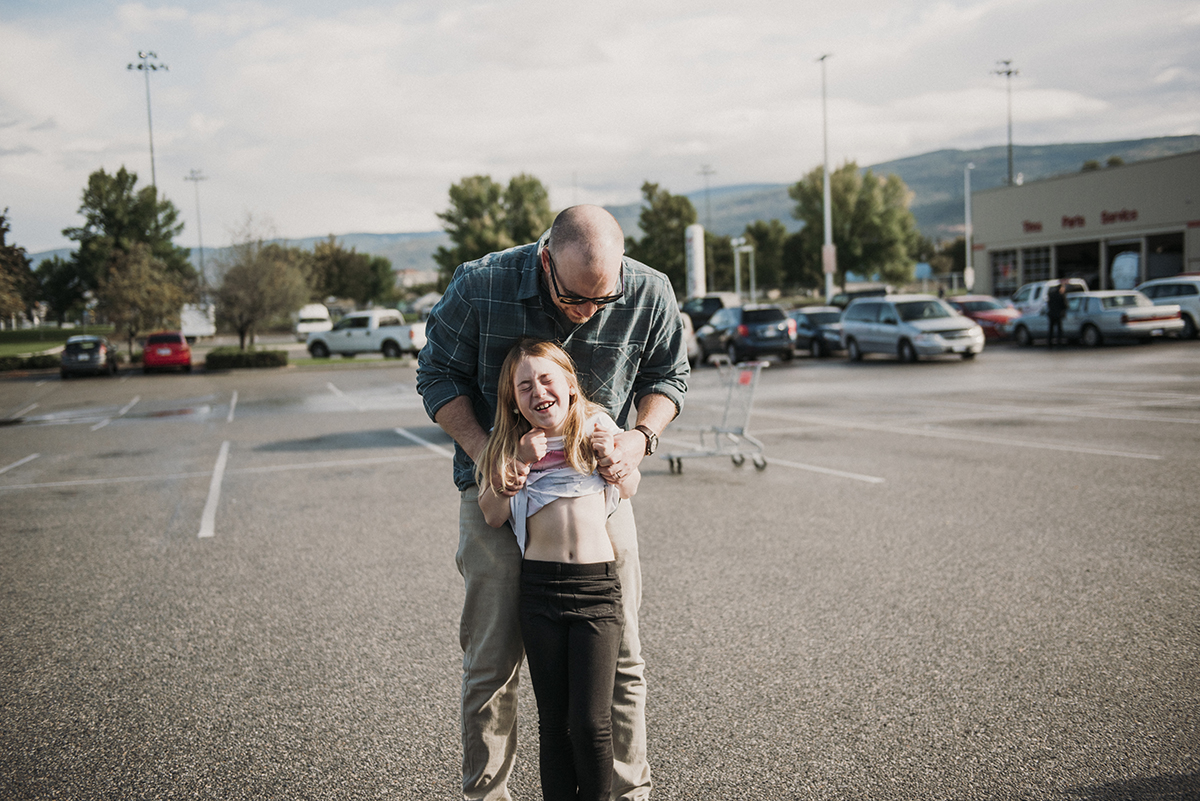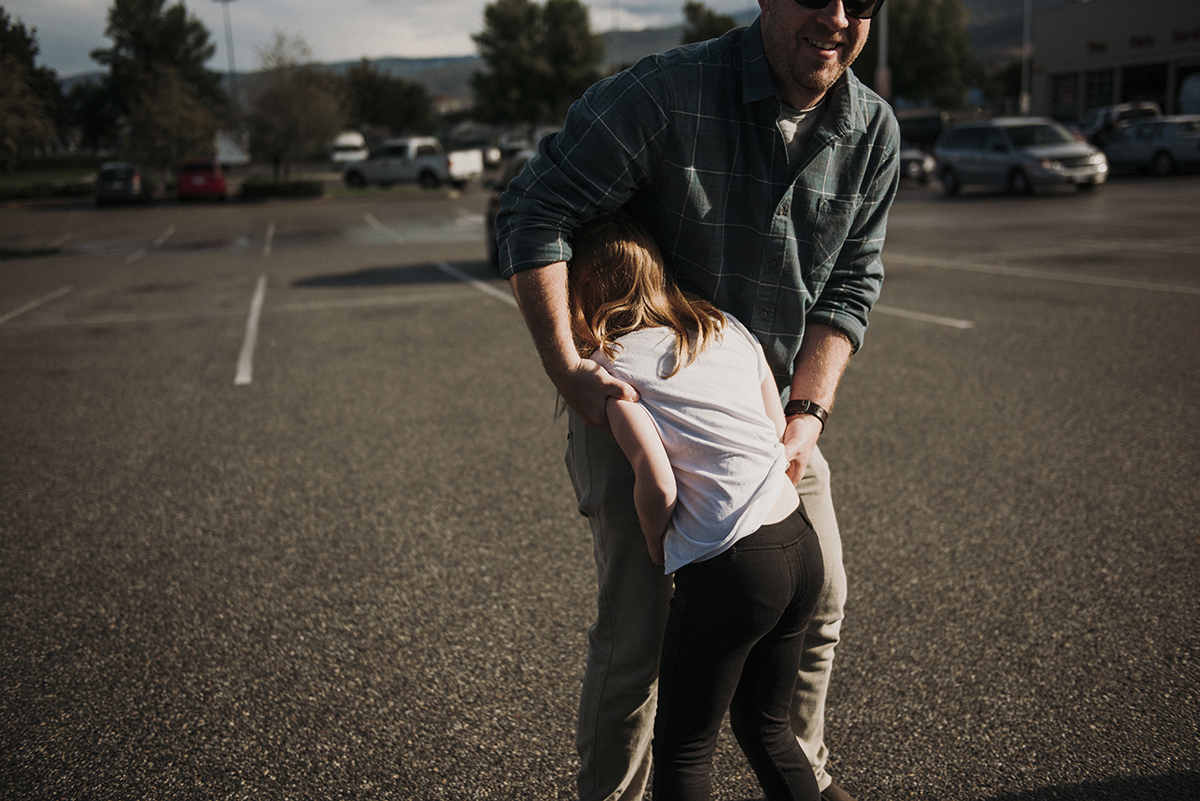 This happened. He calls it "Lightning Shot".
We really like trains. This was not our first visit to Kettle Valley Railway – when Seville was 2, we spent a couple of nights camping in Penticton with Layton's family. She doesn't remember and, come on, we love trains!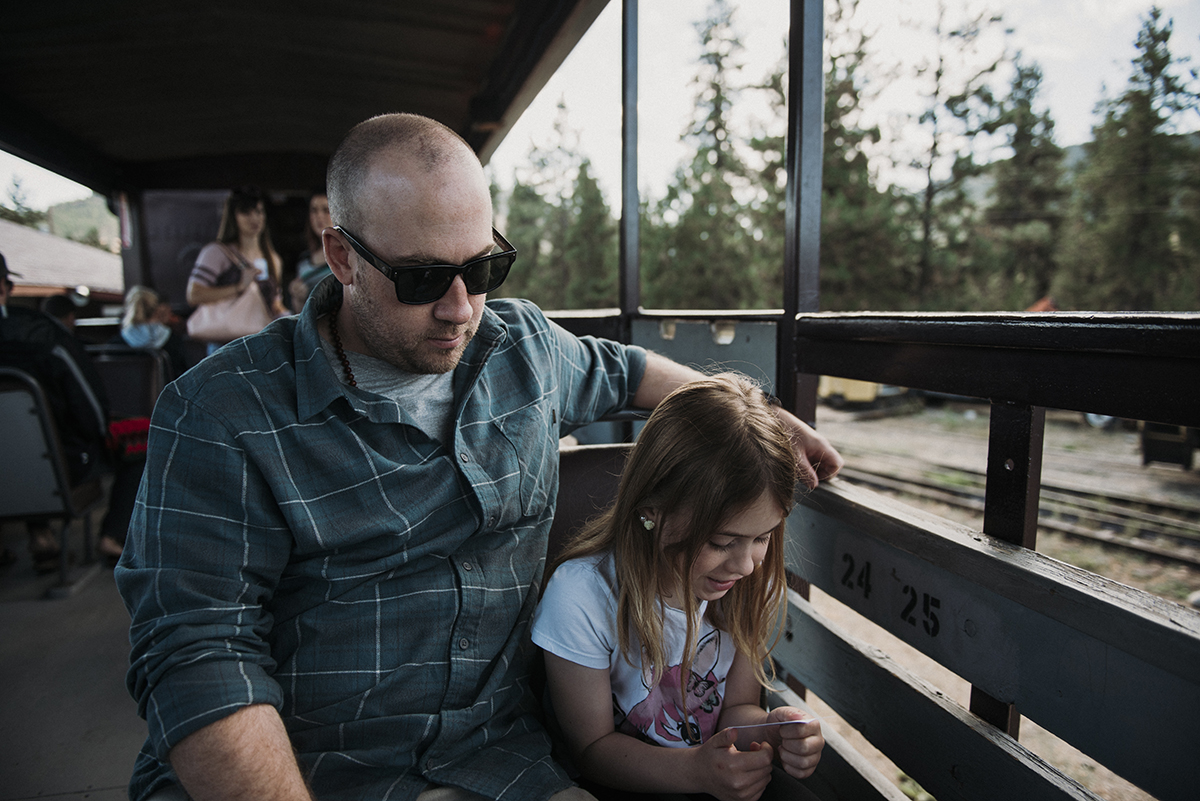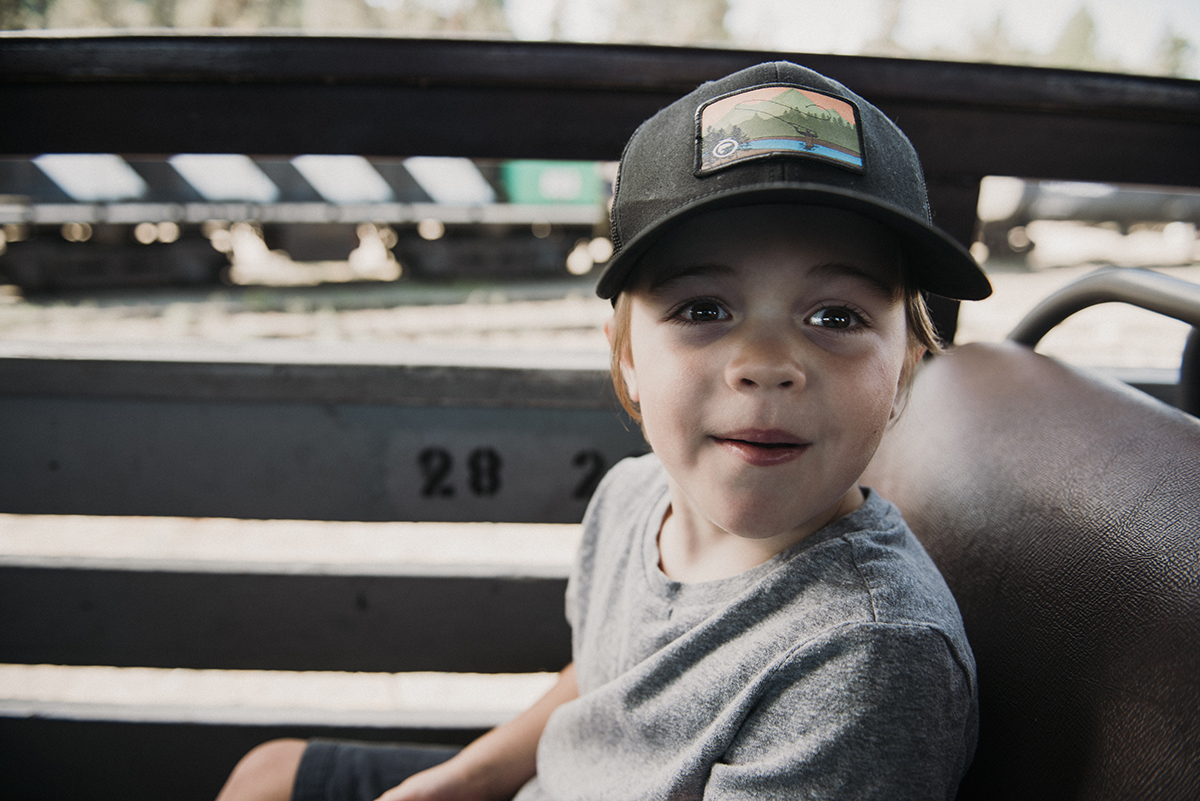 Hobbes especially likes trains.
I'm rarely in photos, but Layton makes a point of picking up my camera. And it's so nice to have photos of me & my kids. <3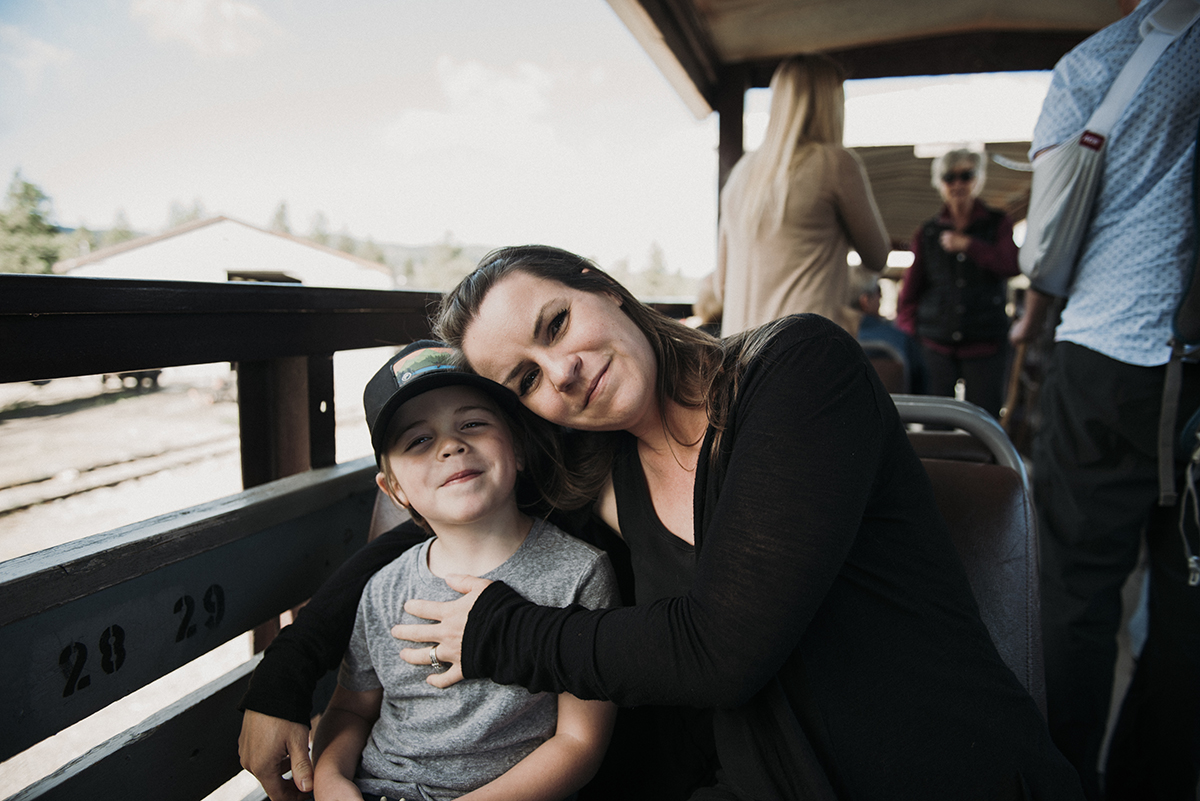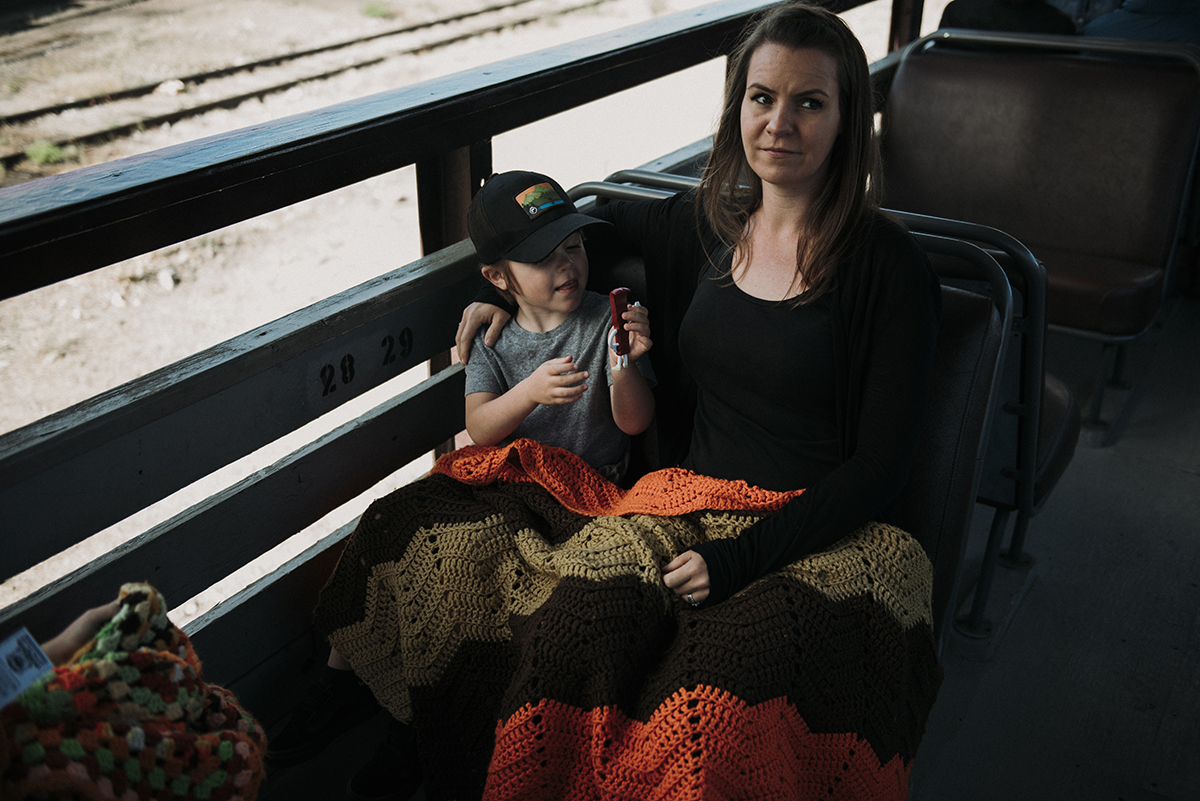 The lovely volunteer gave us blankets!! It was only slightly breezy, but I'm not complaining. She called them "blankies" and they were great.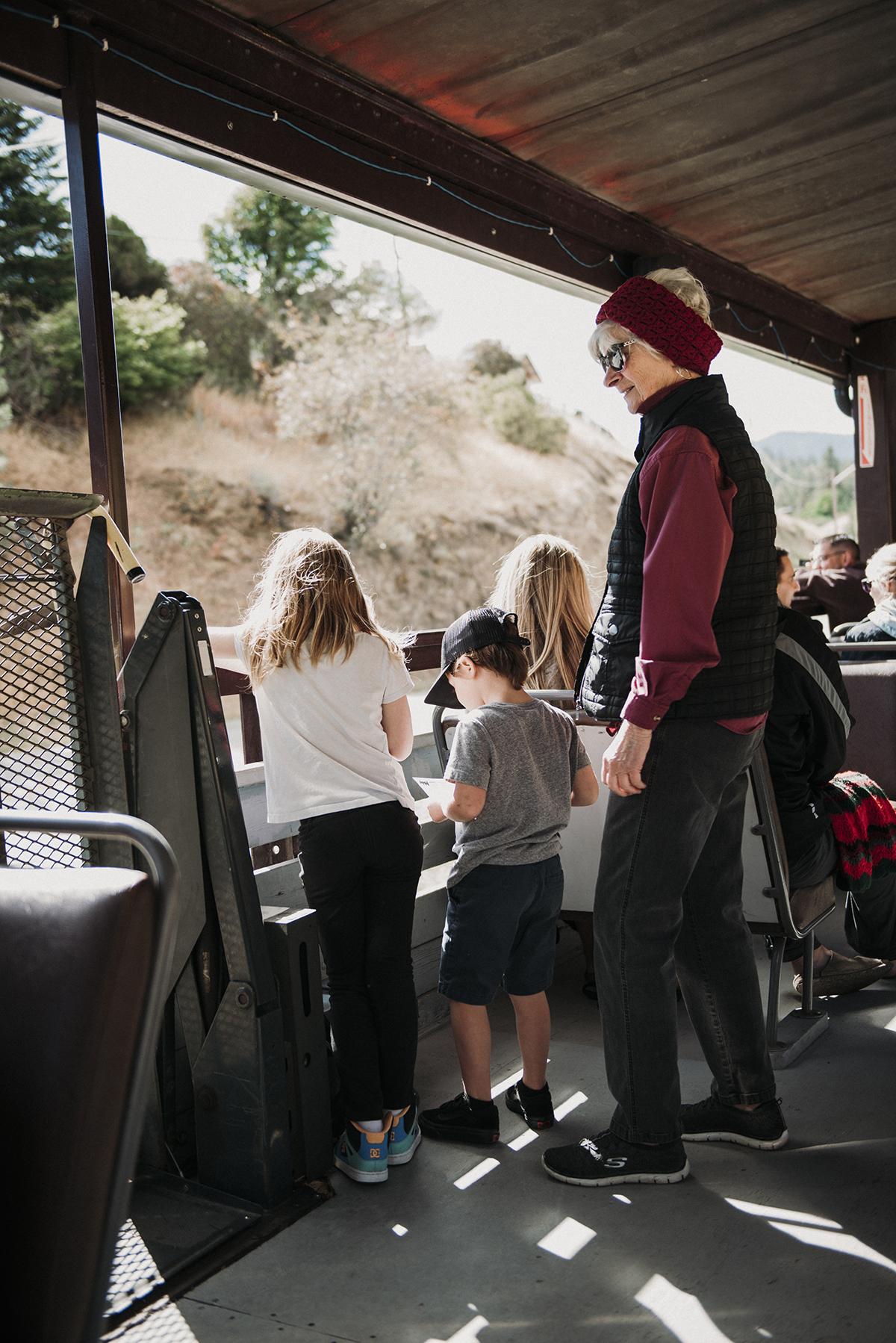 This is the lovely volunteer. She also grabbed my kids every time she saw something she thought they'd like. She was wonderful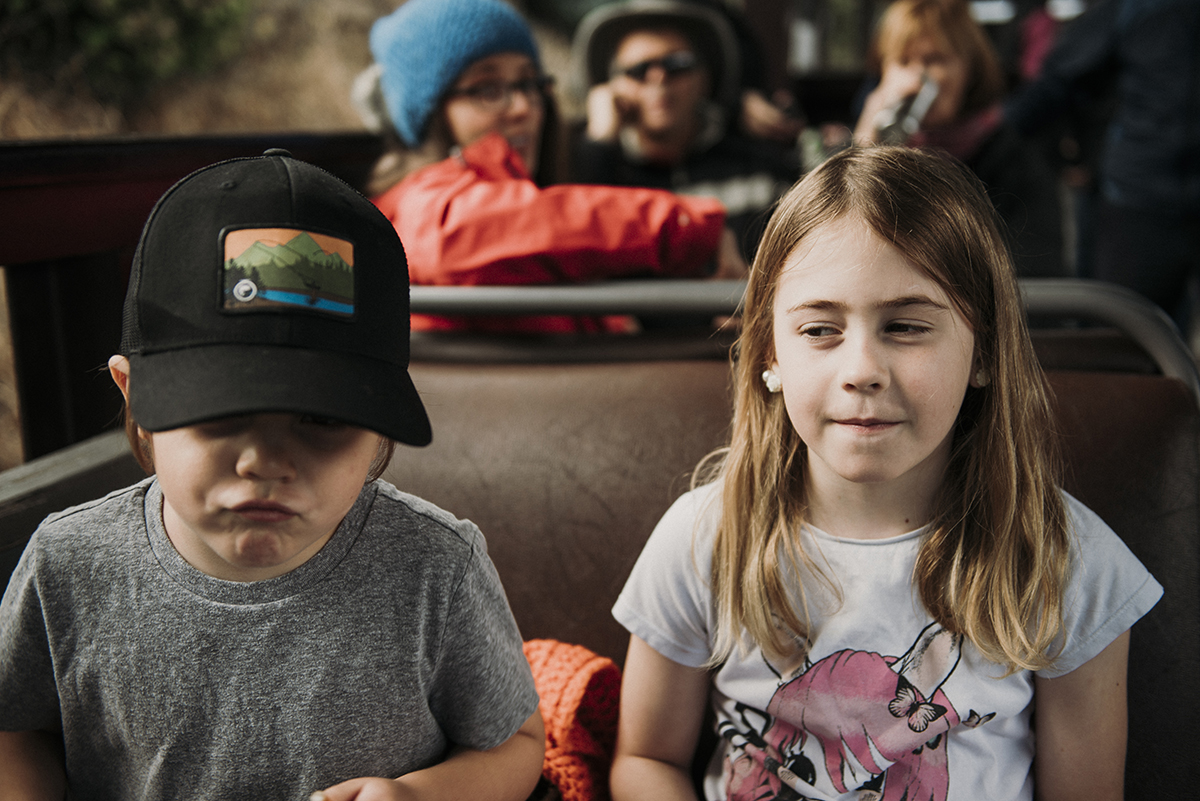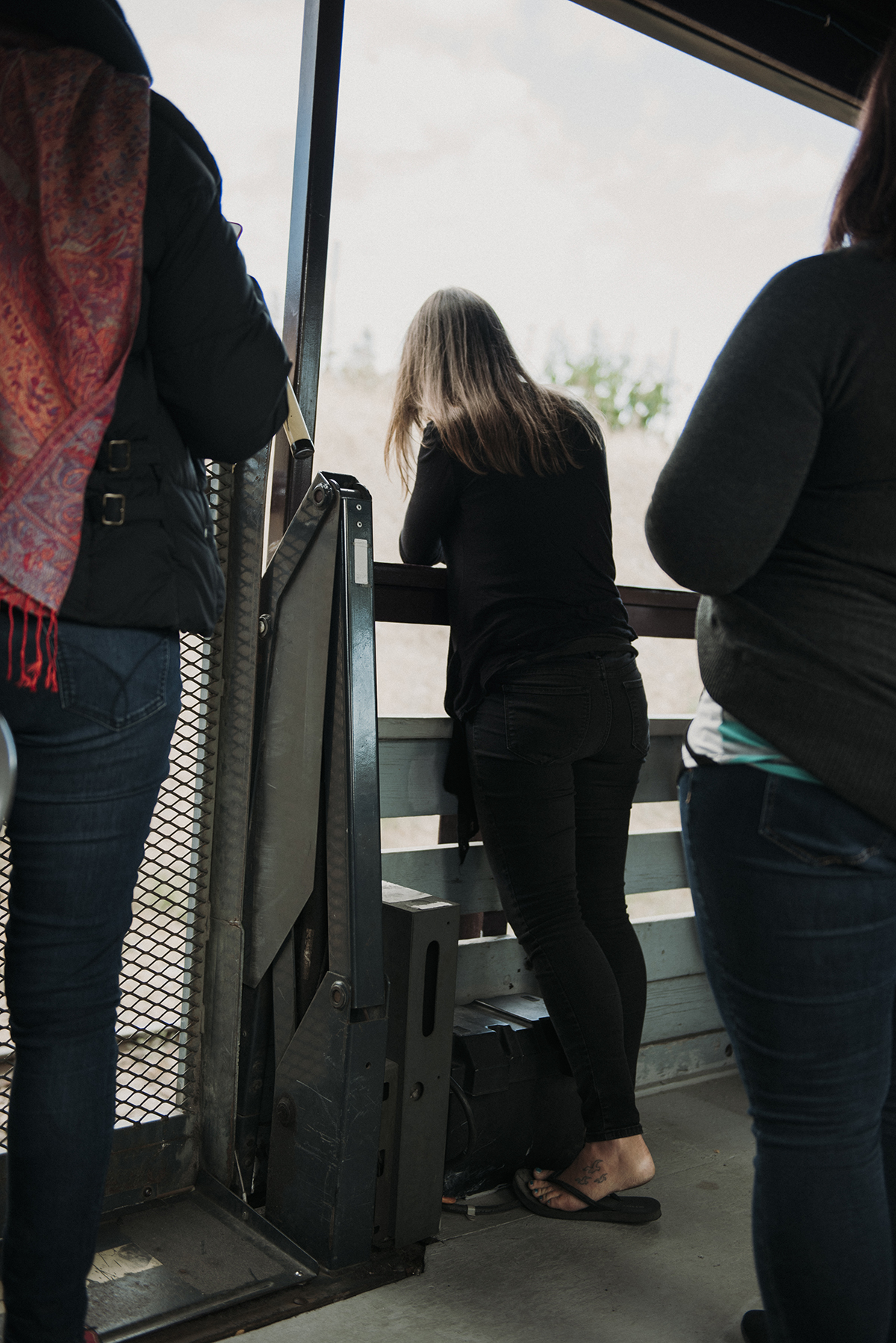 See? He takes photos of me.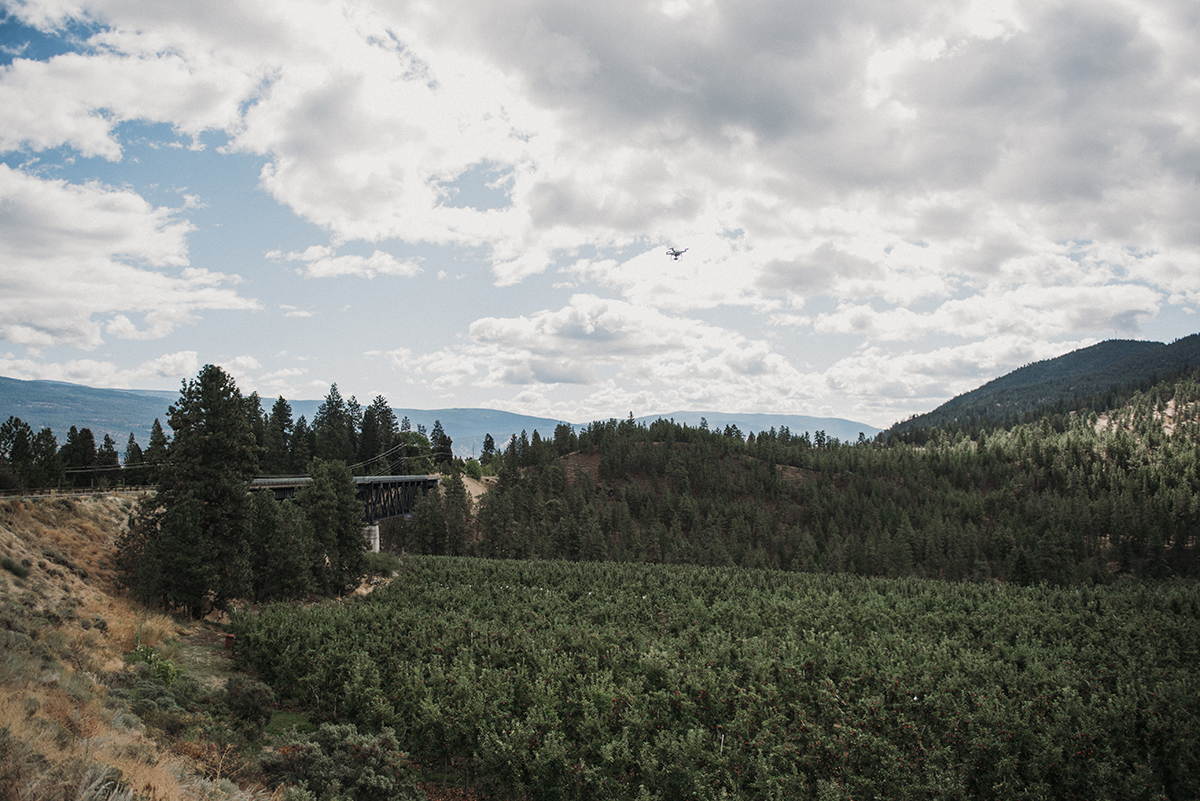 And then…beautiful scenery ruined by a drone. I'm sorry, I hate these things. It was buzzing around the plane, and later on I saw the operator. They're just so intrusive, especially when you absolutely don't expect them. Could I edit it out of the photo? Yes. Bur I shouldn't have to.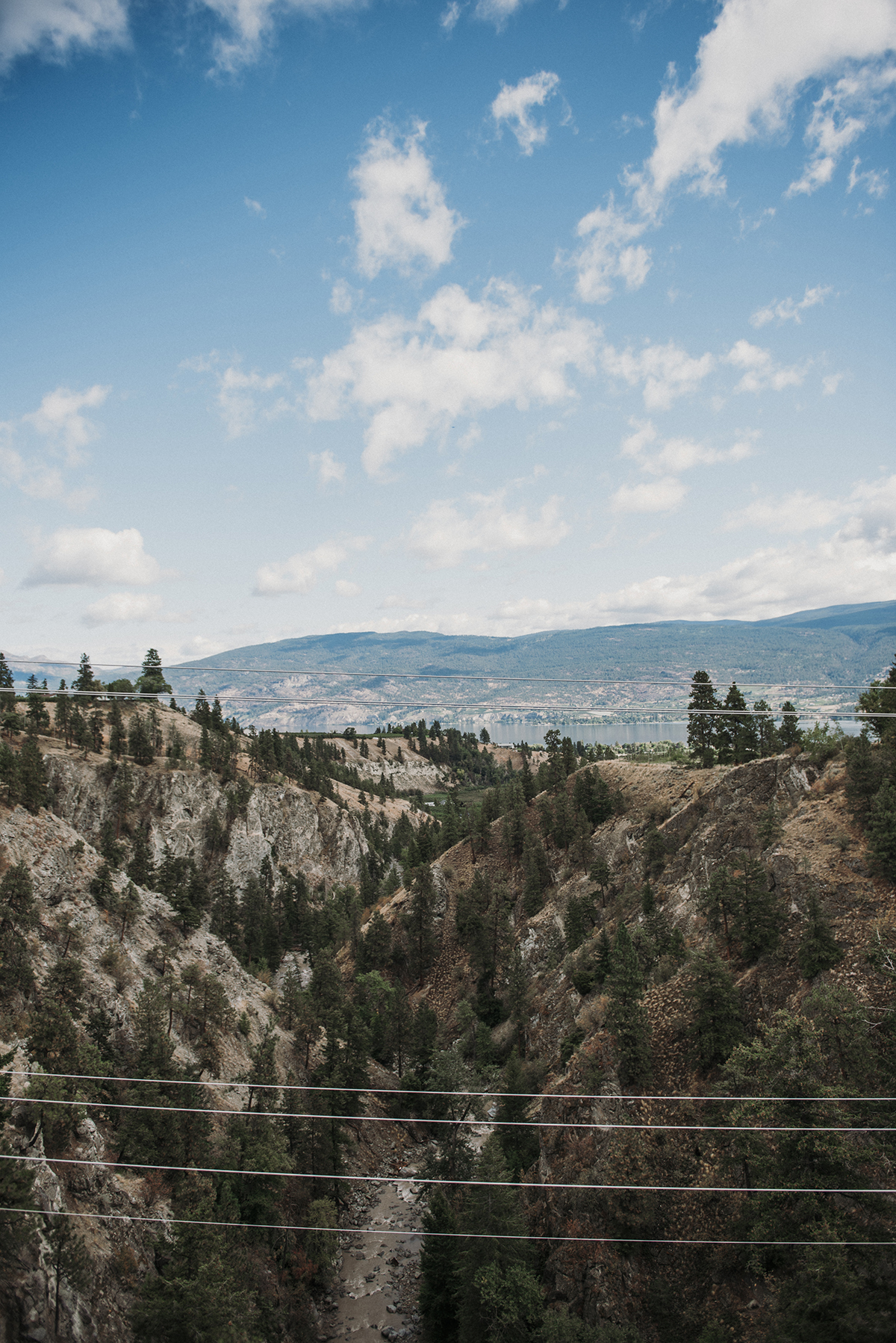 I also won't edit power lines out of my vacation photos – they're a necessary evil, but such a bummer how they cut up this shot!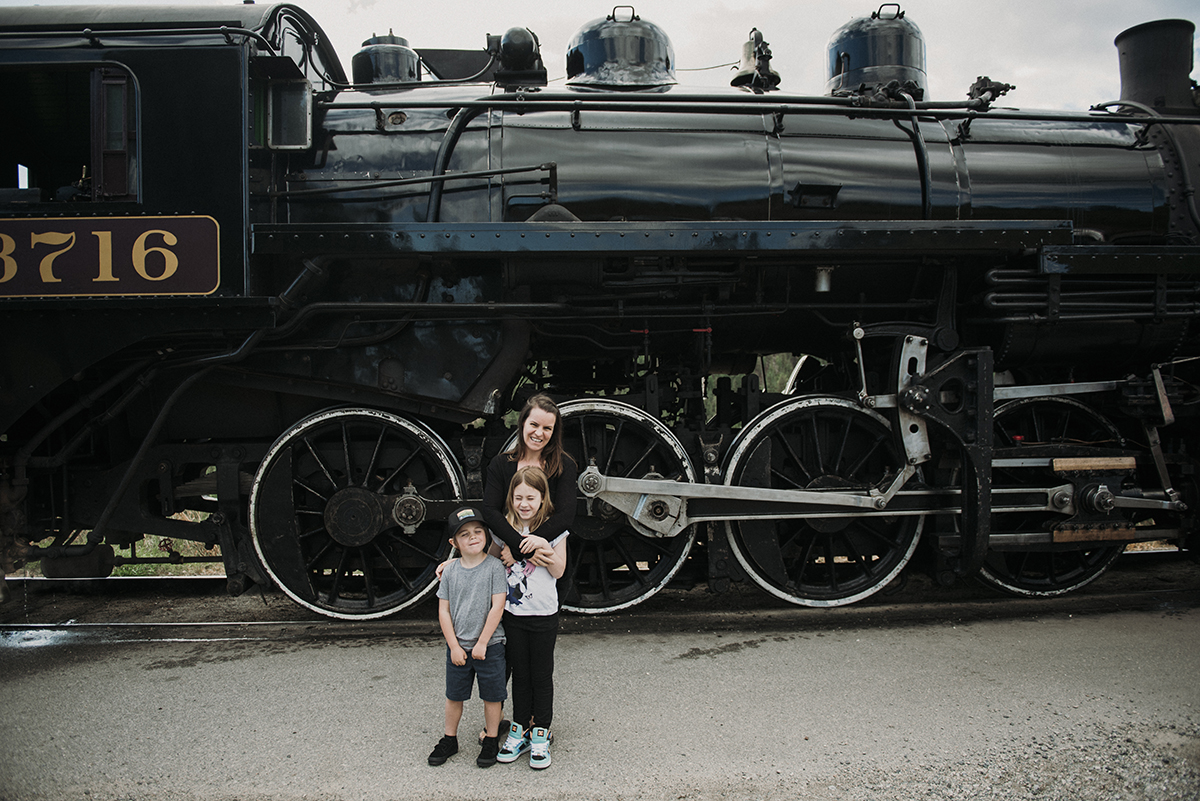 There we are, waiting at the top while they fill the engine up with water.Why did both my kids close their eyes? You tell me.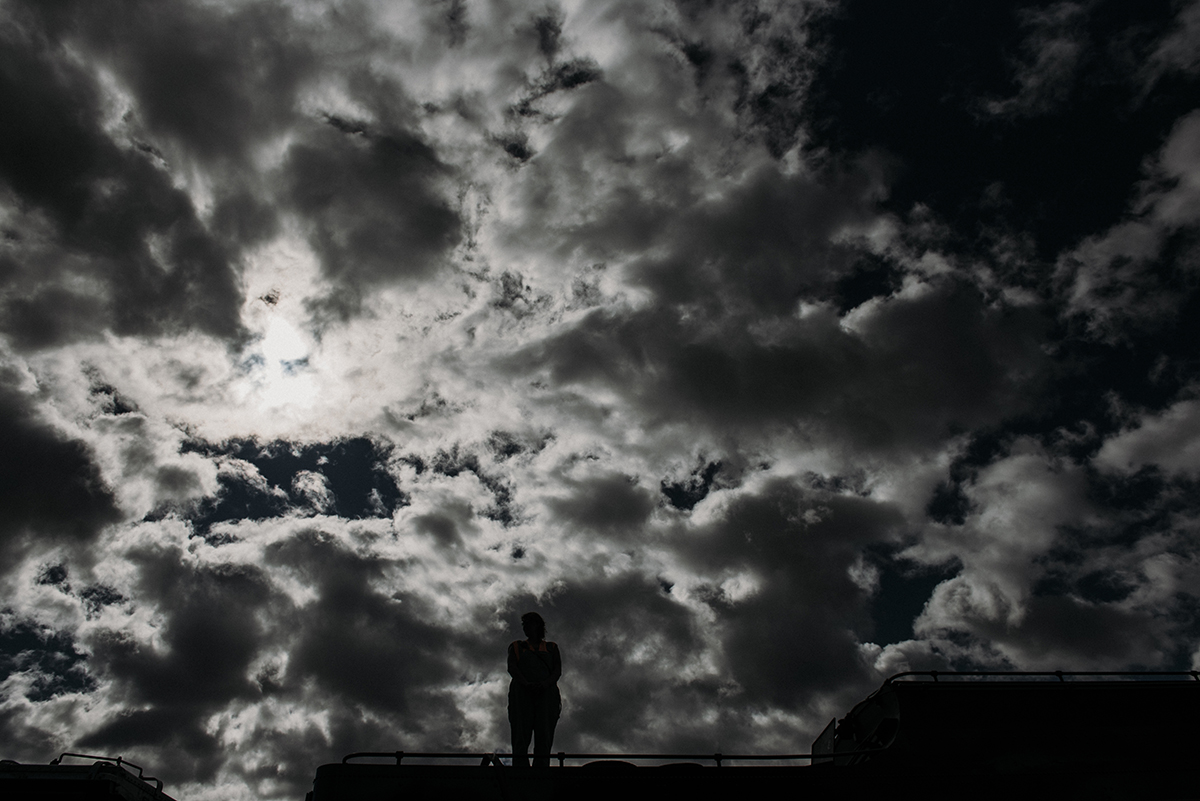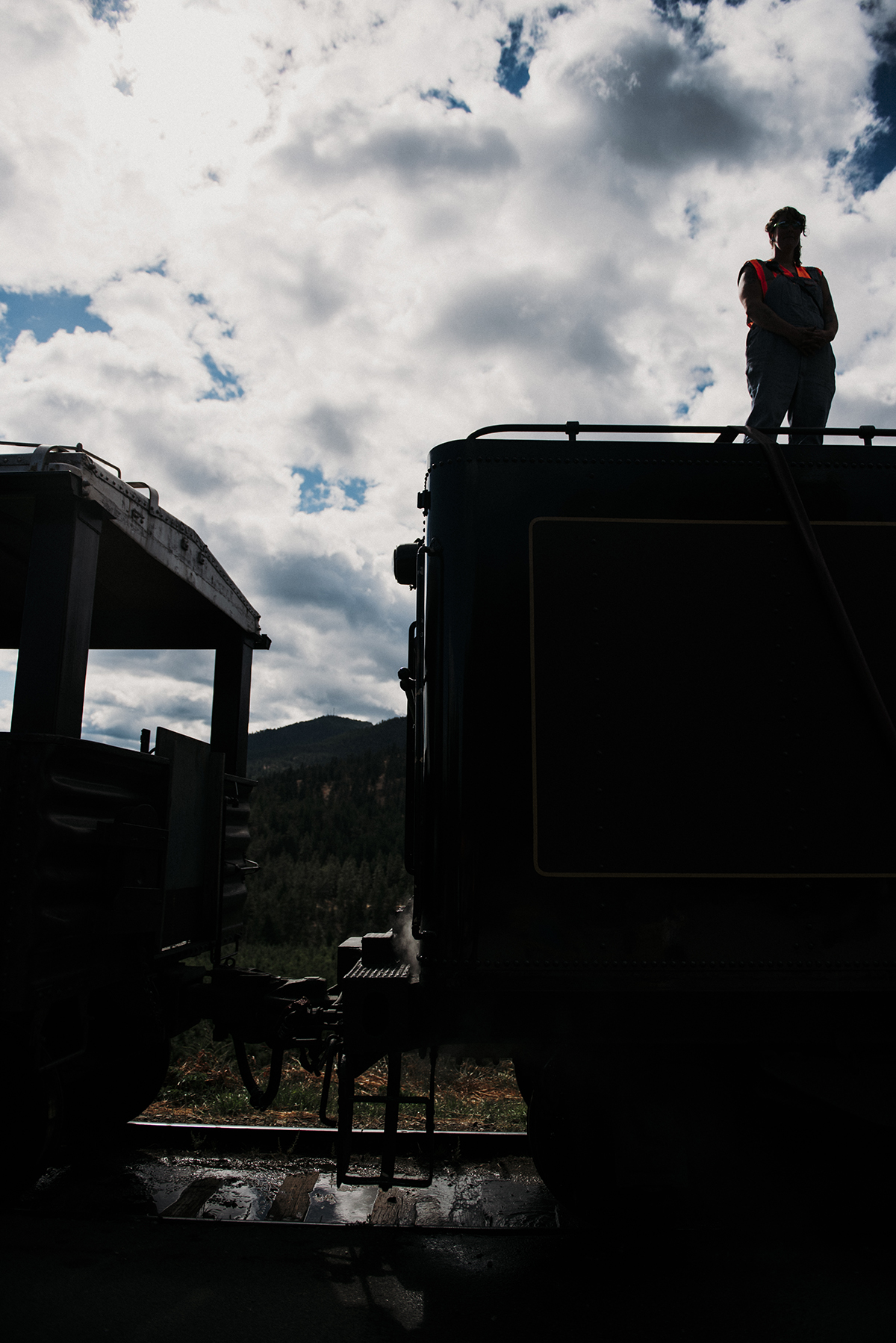 On Tuesday, we got out of bed, had breakfast at the attached Denny's, then headed home. It was a long drive, but this was my favourite part of it. The size of the wind turbines in a wind park like this is breathtaking. Layton's cousin Scott works on them – Scott happened to be in Summerland, so we got to visit him this trip. His instagram feed always blows my mind. I take photos from the moving truck.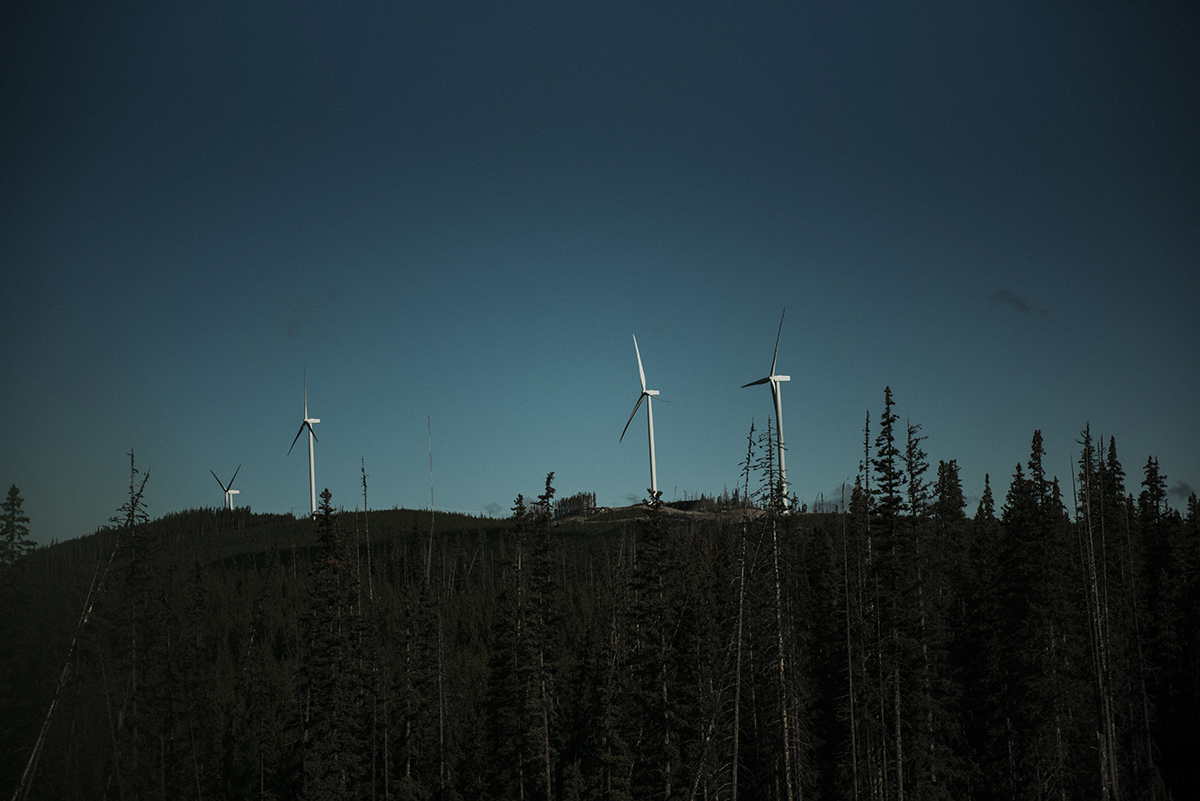 After this there was a long wait in the village at Horseshoe Bay, then a ferry. And then we got closer to home.
I'm just going to say this, and I don't mean it offensively. The Okanagan was dry. No, probably not as dry as Alberta, but I definitely noticed the change of humidity. Lots of people don't like humidity, but I do!
Here's my humidity.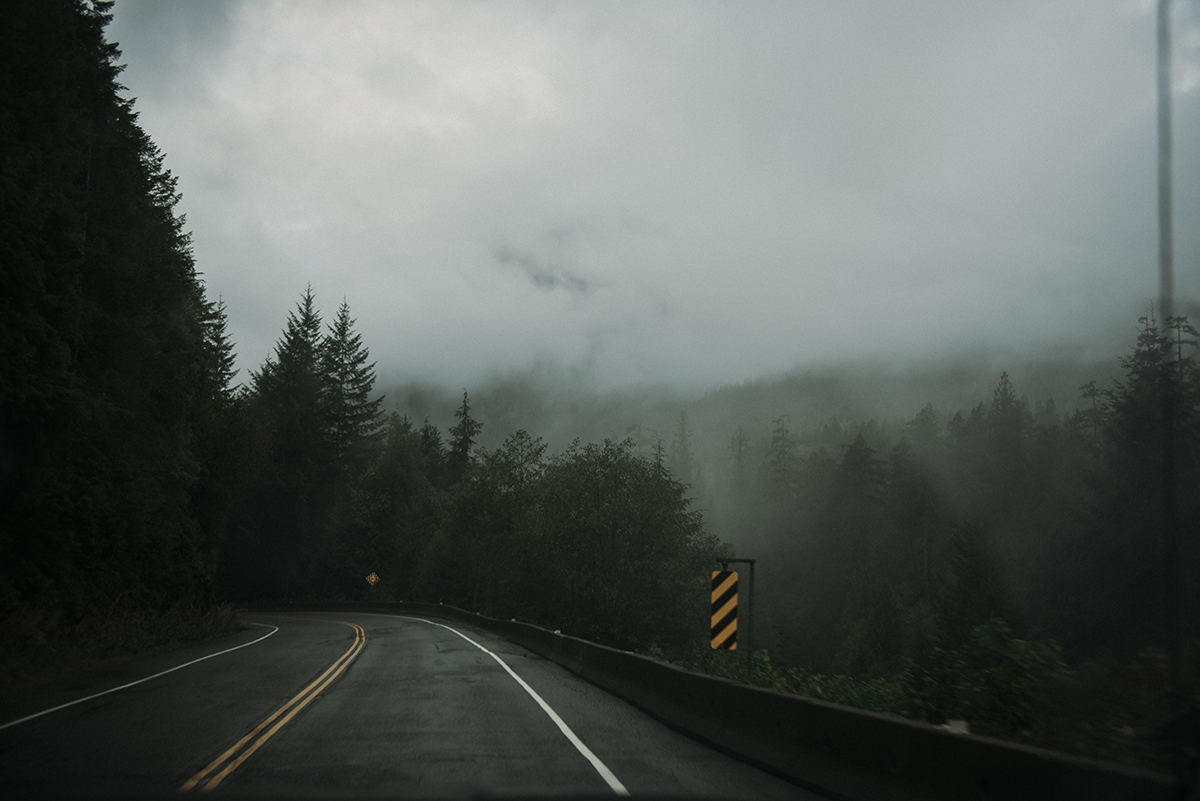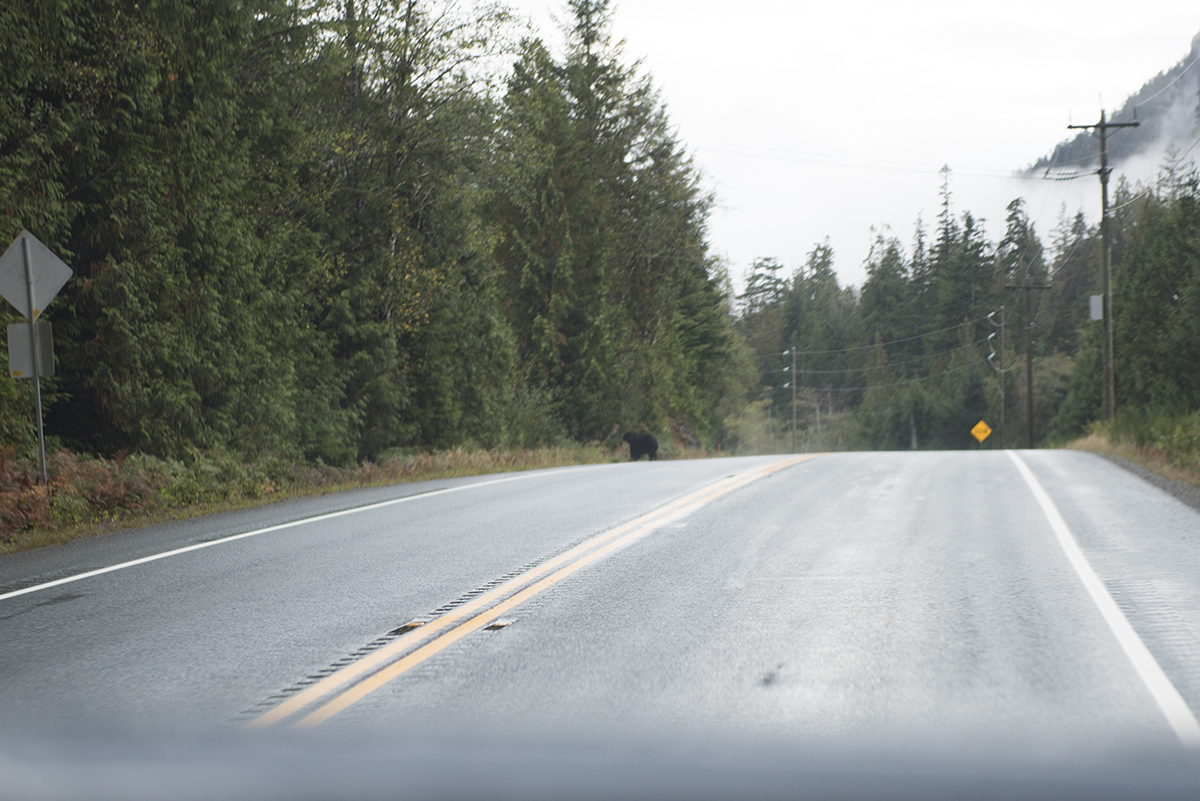 AND…more poor-quality wildlife photography.
It was a wonderful trip, and it's nice to be home, to face my giant pile of editing! Thanks to all my wonderfully patient clients 😀
Jen.
---
---
You might also like
---